Danish designer Søren Rose debuted eight pieces of his Park Avenue furniture collection for De La Espada at the London Design Festival last year, and though the line is for sale its origins are highly specific: a New York City apartment Rose is designing "down to the doorknobs." Savvy design watchers will spot the origins of the High chair's wire base (paging Verner Panton), and it turns out a marble wall in the apartment also has a lineage straight out of the high-modernist playbook. But where do the sly nods to design history end and outright piracy begin?
Newsletter
Join the Daily Dose Mailing List
Get carefully curated content filled with inspiring homes from around the world, innovative new products, and the best in modern design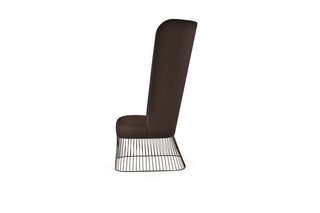 The wire base of the High chair looks rather like the work of fellow Dane Verner Panton. Was that intentional?
It was very directly inspired by Verner Panton and the steel frames he designed for the [Pantonova series] furniture that my mom and dad were buying when I was a kid. It was natural to incorporate this influence into my work because it was always part of my design history. Everyone who sees the reference, especially Danish people, says, "Oh that's the same width of wire, it's the same manufacturing technique." It's a tribute to an old master but in a new disguise.
And you've got a piece of Mies in the Park Avenue apartment too?I was in Verona looking for stone for the apartment, but at some point I thought, why don't we see if we can figure out where they got it for Mies van der Rohe's Barcelona Pavilion from 1929? We discovered they used green marble from the Alps. So we found out where the quarry was and had a little guy in a little Citroen with a little hammer go see if they could do another run for us. They did 38 slabs. The green marble wall will be the signature of the apartment.
Sounds great, but where does homage turn into theft?We're designing this entire apartment so everything here has its own unique story. There are so many other elements that once you see the whole thing you won't see a chair base or a wall as plunder. It's more like a little tribute. The drama of the space, the clients' needs, and the location are the guidelines we're using to create this collection.

Besides, part of the story of why we became designers is because we saw what the masters did and how they worked. Look at guys like Mies and the Barcelona Pavilion or Arne Jacobsen and the Egg chair—they did their most famous work for a particular place. When Jacobsen did the Egg chair he did it for the Radisson Hotel in Copenhagen. He wasn't just making another chair, another bed, another sofa, but actually aiming for something that fits into an environment. We're using this apartment in New York as an incubator to come up with a line of furniture.