We Asked 25 American Makers About the State of Manufacturing (Plus Their Top Designs)
Domestic design is an important marker of culture. But it's not easy to make beautiful things that last and are produced in America. We gathered some of our favorite U.S.-made items and asked their creators about the benefits and challenges of staying onshore.
"Most studios our size think about scale: do we want to offer a smaller volume of higher-priced pieces or do we want to offer more affordable options? Each has pluses and minuses."

Jamie Iacoli, Iacoli & McAllister
Strength in works that search for meaning

Karen John, CEO of small-batch manufacturer Heartwork, heralds unique design.

"We deal with architects and designers, as well as direct consumer clients. Especially for the younger designers, making something in the U.S. really resonates. I think there's definitely a learning curve of education on trying to explain total value. What is it that people like about having something done in America? Do they like it because it's sustainable, or do they like it because it's the action of supporting a whole team? I will say that, on the client side, there are larger clients who have made a point to ask, 'Can we have this product made within X hundred miles?'
"Sometimes I do think, 'Why did I pick this?' There should have been something much easier. But there is one thing I love about American manufacturing: I have found the people involved to be some of the most solid, good people. Especially in the U.S., because I don't think it's about the ginormous automated factories. It's about real people who actually have done things that are not easy to do. "They are the best people—anybody who has the patience and the discipline and the persistence to make things right, when it's not easy."
"I am not worried about our American manufacturing. That being said, we have the challenge of competition from individuals and companies—here and overseas—that don't value authorship and are comfortable producing and selling designs they did not invest in."

Adam Kamens, Amuneal
Upholstery is the sweet spot for Pottery Barn
President Marta Benson cites the philosophy of "Kaizen" as a way to ensure competitiveness.
"There's definitely a feel-good component to buying American-made. But there's a lot of pressure on price. The consumer is only willing to pay about 5 to 10 percent more. Quality, design, and price come first, and then Made in America is an added value. There's always some kind of a natural best place to make certain kinds of goods. We have a global sourcing organization, so we're somewhat agnostic about it. In the case of upholstery, it's a win—we can be competitive and can continue manufacturing here. We have a 400,000-square-foot factory in North Carolina that we built from the ground up, where we follow the Japanese "Kaizen" philosophy of iterative improvement, taking out waste or unnecessary steps to improve efficiency.

"Also, with a big item like a sofa, you have to consider the cost and time of shipping. Ocean freights go up, or there's a limit on the number of containers you can access. There are actually pressures on foreign-sourced goods—foreign labor costs are increasing. I'd say about 20 percent of our products are made domestically. It's all upside, and quite frankly, we wish we had a higher penetration."

"In the hand crafted business, you end up wearing a lot of hats. We design and make our furniture in-house, and we do a majority of our sales direct to consumers. We enjoy that strong relationship, but it's not a sustainable model. We need experts, partners, and channels—retailers and manufacturers—instead of trying to reinvent the wheel."

Abir Ali, Co-owner, Ali Sandifer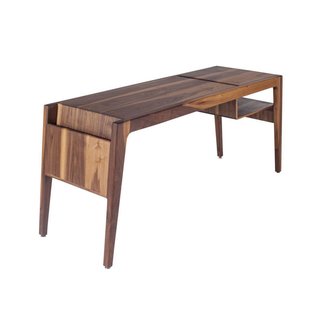 Eric trine on the pitfalls of making things in America
An outspoken designer has some real talk for consumers.
"Often these Made in America movements tend to romanticize the idea, but what if manufacturing in America kinda sucks?

"What happens when you have a hot item—in my case, anything plated brass or copper—and there's not a single vendor in the L.A. area who can get the job done right and on time? I have open orders for 80 of my brass stools right now that I can't fulfill, because out of the five vendors I've sought out to pick up the business, two have shuttered in the past three months, and the other three were worse than my original vendor, and three times the cost!
"What happens when your main, stable manufacturer just drops the ball on quality control and in the course of six months you find that $50,000 worth of product has to be redone?
"There was a chunk of time, roughly the past 10 years, when new graduates of design programs were dead-set on manufacturing in America, but now that emphasis is waning—and the consumers just don't care as much anymore. Everyone loves using iPhones to talk about how much they support things being made in America."
"We sleep well at night, aside from the holes we've scratched into our heads over all the small decisions in production that seem big. It's all in the details! Young designers, beware..."

Nana Spears, Cofounder, Fort Makers
Mitchell Gold distills almost 30 years of wisdom
The Mitchell Gold + Bob Williams cofounder recalls how big events have shaped his business.
"What keeps me up at night is consistency. Sometimes we've had so much business we've had to race to get things made. Other times, like in 2008 or in 2001, at the start of the Afghanistan War, there wasn't so much business. What makes me nervous is an administration that's trigger-happy and will get into a war. War has an impact on the economy. People's consumer confidence goes down. If there's a hiccup in the economy, they have a reason not to buy.

"The consumer is only going to spend so much more to get something made in America. Today they can go on the Internet, compare 10 products, and if our product is $4,000 versus $3,000, they won't buy it. But if ours is $100 more, they will.
"People appreciate that we make our furniture here and that we're environmentally responsive. A few weeks after we first started, there was a story on the front page of the Times about the ozone being depleted. One of the biggest contributors, it said, was furniture makers. Producing foam emits a lot of C02. I called Bob and I said, "Do you know what we're going into?" But today over 70 percent of consumers do some recycling. What that tells me is, regardless of whether people identify as environmentalists, they want to help."