Before & After: A Dated Florida Ranch Gets a Complete Makeover For $311K
Blending Mediterranean influences with a modern farmhouse aesthetic, Jungle Too is a thoroughly renovated ranch in Florida boasting a renewed connection with the outdoors.
Not long after Studio 818 began remodeling a spec house in Fort Lauderdale, the interior design firm was approached by a woman interested in purchasing the property sight unseen.
A longtime fan of their work, the prospective homeowner told the designers she'd soon be relocating to the area and had the utmost faith in the practice. Not only did she offer to purchase all the yet-to-be-acquired staging furniture, but she also waited until the house was completely finished to see it in person.
Before: Exterior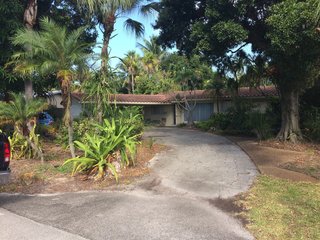 Newsletter
Join the Renovations Newsletter
Get carefully curated content filled with inspiring homes from around the world, innovative new products, and the best in modern design
After: Exterior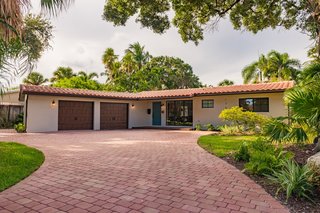 "I had only communicated with the buyer via email, text, and phone until the day she arrived to see her new home for the first time," Janie Micek, principal of Studio 818, says. "It was probably one of the coolest moments we were able to be a part of. It made all the sweat, blood, and tears so worth it!"
Before: Living Room
After: Living Room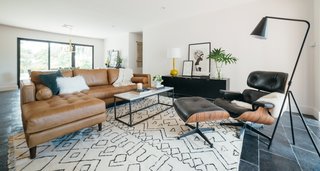 Originally purchased by the firm as a portfolio piece, the 1950s property was a typical, ranch-style Florida home topped with a barrel tile terra-cotta roof. Dark, dated, and non-functional for modern needs, the original structure needed a thorough revamp beginning with a $100,000 rebuild that included digging up and replacing the original cast-iron pipes; installation of new wiring, outlets, and panel; an upgraded HVAC; as well as new impact windows and doors throughout.
Before: Kitchen
After: Kitchen
The footprint of the original two-bedroom, two-bath house was also expanded with two new additions, bringing it to a total of a 1,728 square feet with three bedrooms, three baths and an oversized two-car garage.
Using a Mediterranean-inspired style, Studio 818 maintained the architectural integrity of the 1958 home while introducing a contemporary refresh.
Before: Bedroom
Janie explains, "Once the vision was established, it was easy to select materials and finishes to complement the aesthetic and add architectural elements to support the farmhouse look. For example, we added colonial mullions to the front windows, rustic black limestone floors, barn doors, oak floors, etc."
Before: Bathroom
After: Bathroom
The renovation and expansion project was completed for a total construction cost of $311,000. The furnishings and window coverings—slightly tailored to the buyer's tastes—cost an additional $40,000.
Before: Expansion
After: Expansion
"More than a dozen dumpsters of concrete and asphalt were trucked out of the property with nearly 20-truck loads of soil trucked back in to sculpt the gorgeous new landscape," the firm adds. "The interior was designed to honor and welcome the feel of nature into the living spaces."