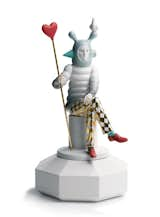 Jaime Hayon for Lladro
Most people think of their moms' off-limits china cabinets back in childhood days when they think of Lladro. The Spanish maker of porcelain figurines has occupied the niche as the go-to company for glossy little scenes of children studying, or kissing each other's cheeks, or just being cute like kittens. But things have changed since Jaime Hayon came on as artistic advisor.
Hayon, perhaps more well-known for designing Camper shoes, has just released "The Fantasy", a line of whimsical and happy reinterpretations of Lladro's themes of love, family, childhood and the magic of the circus. Colors are tiffany blue and luscious greens; there are red hearts here and there. "The Lover I, II and III" is a series that treats the playfulness of the emotion: a man sits, legs crossed, with a hat that's a cross between a martian helmet and a chicken head; a bird sits on his head. He wears red Campers. "Family Portrait" is a touching modern scene of mother, father and baby: a golden lamp sits between them. Dad wears blue Campers. And Cactus is a bit of a cross between a cactus, a Christmas tree and a martian's hat: birds flock around it, and it's likely the most cheerful rendering of a succulent you've ever seen.



Whimsy: it's the most appropriate emotion for objects that serve no function other than to delight.
Get the Dwell Newsletter
Be the first to see our latest home tours, design news, and more.