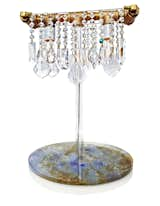 Iron and Crystal
Michael McHale may be the first designer to juxtapose Swarovski crystal with industrial piping. A pioneer of the deconstructed chandelier, who brought the medieval classic to the 21st century, has added a delightful tweak—a table lamp.
The lamp is composed of reused industrial piping and both teardrop and circular crystals—Swarovski, if you wish—dangling from thin chains all around the base. Bulbs sometimes have exposed filaments; some of his chandeliers feature ovular refrigerator bulbs. The lamp comes in two-bulb and four-bulb iterations.

For those who love the chandelier but don't have the place (or the ambition) to install it, this is the perfect medium. And judging by their success, this is the way many are thinking—by the time of a recent opening in Soho's Desiron Gallery, his lamps had already quickly sold out. 
Get the Dwell Newsletter
Be the first to see our latest home tours, design news, and more.