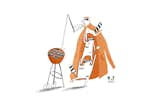 Learning to Live With—And Maybe Love—the Critters in Your Yard
Yes, it's possible to coexist happily and peacefully with our animal pals—here's how.
Humans don't make it easy for wild animals to stay away from us. With population centers pushing further into nature, people and wildlife frequently occupy the same habitat, with food and trash a common nexus of interaction. So what does healthy coexistence with local critters look like? It has as much to do with our attitude as it does our landscaping, according to Nyeema Harris, the director of Yale University's Applied Wildlife Ecology Lab. "We have to think about the whole ecosystem," she says.

Harris applauds eliminating pesticides and lawn treatments, as well as efforts to make our outdoor spaces more hospitable to visiting fauna. But you also have to recognize that your bird feeder may attract your preferred creatures, and it doesn't necessarily stop there. "There are also going to be small mammals, and with them there are going to be birds of prey and other carnivores. So we need to be aware and not surprised or have any kind of disdain for the creatures that arrive." For example, a raccoon in your yard isn't necessarily bad, but if it's rifling through the garbage, you might not be doing a good job of managing your trash.
Happy animal interactions also don't stop at your property line. "I can do one thing, but if my neighbor next door is doing something completely different, it's not going to work," Harris says. "The more we think about collaboration, like neighborhood initiatives or city planning, the more effective we can be."
Some other offerings for the great outdoors