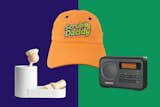 Goldilocks Cofounders Minsuk Kim & Jessica Sheft-Ason Want to Make Cleaning Fun
The cookware impresarios know that the key to keeping your sink clean is a Scrub Daddy and a good attitude.
When former Glossier employees and current business partners Minsuk Kim and Jessica Sheft-Ason launched their cookware brand Goldilocks (formerly called Potluck) in July 2018, they knew even then that stainless steel was the way to go. "People are always trying to sell you on new nonstick technologies or whatever but we wanted to create a brand that was about simplifying the process for cooking well at home—and stainless steel is a great option because if you use it right, it doesn't stick and it lasts forever," says Kim.
After a year of product development, Kim and Sheft-Ason debuted a collection of essential cookware that could, effectively, replace anything coated with Teflon or DuPont. "Traditional nonstick coating is just a layer of plastic that is on top of aluminum and that's why you can't really get it too hot and it's not oven safe. Even ceramic nonstick coatings lose their nonstickiness after a while and need to be trashed," adds Kim, "and we're not interested in throwaway products; we'd rather focus on teaching folks how to use the stuff properly and cook well at home." (On that note, I also tell the duo that I'd recently awakened to stainless steel chef TikTokers who teach viewers how to use these wares correctly. The stainless steel stans are adamant.)
Both Kim and Sheft-Ason are avid cooks themselves and they use their own tried-and-true Goldilocks products to whip up a variety of cuisine at home. Sheft-Ason tells me that a Smitten Kitchen cauliflower salad and a rice-and-vegetable salmon bowl are in current regular rotation in her Brooklyn home, as well as a weekly baked treat of "something I'd see on Reels or TikTok and get inspired by." Kim makes "a lot of veggie-forward Korean and Italian food" and soups in larger batches that can be eaten multiple times throughout the week.
When it comes to the post-meal wind-down, the two co-founders both agree that keeping their respective New York City sink areas as tidy as possible is crucial for a happy, non-stressful kitchen—and this means opting for the most effective cleaners, organizers, and even a portable radio for doing the dishes. "As far as cooking goes, half of it is cleaning up and it's the part that I feel everyone dreads, so we just thought it'd be fun to talk through some of the things that make cleaning up for us a little bit easier," says Kim of their favorite sink-side products ahead.
"Have you ever heard of FlyLady?" asks Sheft-Ason. "It's this early internet blog that looks like it's stuck in 1995 by this woman whose whole thing is about how to be a clean person. And her philosophy is, 'It all starts with the sink," and keeping a really clean sink." Shet-Ason elaborates that FlyLady's ethos is that once you've nailed down a really clean sink, you can then focus on other areas of your home. "I try to remember that when I'm cleaning the sink."
"This is our newest product and I've been reaching for it a ton, especially during winter to make soups and chilis. One surprising thing is that because of the large surface area, I end up using the Dutch Oven almost as a wok replacement; it's extremely versatile! And because it's coated with enamel, it's super easy to clean up." —Jessica Sheft-Ason
"[My boyfriend and I] were using an old Tupperware to house sponges and scrubbies on our sink ledge for the longest time. I went over to a friend's house and was admiring how clean and sleek their sink looked just with a simple organizer. A cheap and quick upgrade." —JSA
"I've always loved Scrub Daddy sponges but was even more into the brand when I learned that the founder is a sponge expert and it's one of the most successful products ever to air on Shark Tank. This hat is funny and always starts a good conversation about cleaning." —JSA
"I've tried better-looking and better-smelling dish soap, but they're never better-working. There's something about Dawn that makes it much more effective than other soaps (I've googled and allegedly there's some secret ingredient). I'll use this straight away or during a pre-soak if I'm procrastinating and my dishes always look brand new." —JSA
"These are insanely expensive for what are essentially flip flops but they're great house shoes. They're highly cushioned which makes standing in front of the sink painless and you don't need to worry about getting them gross from an inevitable splash." —Minsuk Kim
"I turn the radio on before I turn the sink on. Music or chatter helps pass the time, but I really don't like to choose what to listen to. Plus, this little radio takes up a negligible amount of counter space. My presets are WKCR, WFMU, WNYC, Hot 97, and CBS FM." —Minsuk Kim
"A lot of people think that the easiest way to cut down on dishes is to use nonstick pans. Not true! When used the right way, stainless steel cookware will release food and clean up just as easily as anything else. Plus, they're dishwasher safe." —MK
"Okay, sometimes you might need a little extra help to clean stainless steel pans. A stubborn, burned-on stain, for example. If that's the case, Bar Keepers Friend is a cheat code. Just sprinkle some onto your pan, moisten with water, and use the scratchy side of your sponge." —MK
We love the products we feature and hope you do, too. If you buy something through a link on the site, we may earn an affiliate commission.
Related reading:
Get the Dwell Newsletter
Be the first to see our latest home tours, design news, and more.