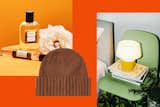 The Best Gifts for the Man In Your Life That Aren't Socks
These unique gifts are perfect for even the hardest-to-shop-for guys.
If you happen to have a man in your life—a brother, a cousin, your sister's boyfriend you pulled in the family White Elephant—maybe you're stymied for what to buy. Look no further, for we're here to help. Pamper the lounger, the budding home chef, the candle hoarder, and others on your list with these heartfelt gifts. No matter what their interests are, our curated guide will take the guesswork out of finding the perfect presents for the men in your life.
For keeping their dome cozy.
Cooler than an actual cactus.

A fresh scent, and an even fresher look.
We can't wash your worries away, but we can recommend this reset button in a bottle.
A well-designed home for their winged friends.

Back at the office? Double down on at-home comfort.
The hot-sauce boss in your life needs a new thrill.

Everyone could use a new set of sheets. This one will have him comfy and covered.
The alarm clock that turns waking up into a total dream.
A grab-and-go wine pack with notes of let's get this party started.
A classic set for the modern cheese whiz.
The elegance of a dinner candle, but none of the beeswax.
A wavy, welcome addition to any bar cart.
For the French New Wave disciple who likes to keep it comfy:
Give the gift of self-care.
A holiday blend for the coffee snob.
Yeah, the AirPods Max exist, but be an iconoclast and go for a classic.
Help him find his moment of zen.
Everyone deserves the experience of good cashmere.
For the forager, the foodie, or the fun-guy in your life.
Anything other than Drakkar Noir, thanks!
Like a Swiss Army Knife, but for home audio.
A basic that's anything but.
Cool, collected, caffeinated.
A casual pack that's perfect for a park day.
The official dress code of the home office.
No green thumbs required.
Inspiration for surfers and couch surfers alike.
This weighted blanket is the one thing they didn't know they needed.
Science-fiction short stories for a long weekend.

Wine needs to breathe. Make the process elegant.
Pair this with the Moon Pod for the next best thing to a sensory deprivation tank.
Wine glasses have a funny habit of walking off at a party, but no longer.
A does-it-all kitchen essential that can inspire anyone to expand their culinary repertoire beyond grilled cheese and omelets.
Help them ditch umbrellas forever with a high-quality raincoat.
Brighten up their bedside table.
Get the Shop Newsletter
Smart shopping for the design obsessed. Find what you love in our expertly curated selection of finely crafted home, office, travel, and lifestyle products.