View Photos
10 Modernist Masterpieces Get a New Lease on Life
The Getty Foundation continues its mission to preserve icons of the 20th century.
As part of its commitment to celebrating and preserving some of the world's best examples of modernist architecture, the Getty Foundation's Keeping It Modern initiative added 10 new grants to its already impressive roster. With the foundation's support, new research, testing, analysis, and planning work can be put into making sure these buildings continue to inform and inspire architects and design enthusiasts for years to come.

The Keeping It Modern initiative now supports the conservation of 64 architecturally significant projects with the addition of these 10 buildings. That's pretty impressive for an endeavor that is only six years old.
Read on to learn more about the projects, which can be found in locations as far-flung as Bulgaria's Buzludzha Peak and as bustling as the Argentinian city of Córdoba.
Buzludzha Monument by Georgi Stoilov, Buzludha Peak, Bulgaria, 1981
Get the Dwell Newsletter
Get carefully curated content filled with inspiring homes from around the world, innovative new products, and the best in modern design.
Torino Esposizioni by Pier Luigi Nervi, Turin, Italy, 1954
Beira Railway Station by Paulo de Melo Sampaio, João A. Garizo do Carmo, and Francisco José de Castro, Beira, Mozambique, 1965
North Christian Church by Eero Saarinen, Columbus, Indiana, 1964
Miller House and Garden by Eero Saarinen, Columbus, Indiana, 1953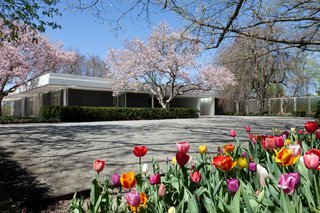 Escuela Superior de Comercio Manuel Belgrano by Osvaldo Bidinost, José Gassó, Mabel Lapacó, and Martín Meyer, Córdoba, Argentina, 1968
Laboratory for Faculty of Chemical Technology at Kaunas University of Technology by Vytautas Landsbergis-Žemkalnis, Kaunas, Lithuania, 1935
Uganda National Museum by Ernst May, Kampala, Uganda, 1954
Paraninfo at the Universidad Laboral de Cheste by Fernando Moreno Barberá, Cheste, Spain, 1969
Villa E-1027 by Eileen Gray, Roquebrune-Cap-Martin, France, 1929