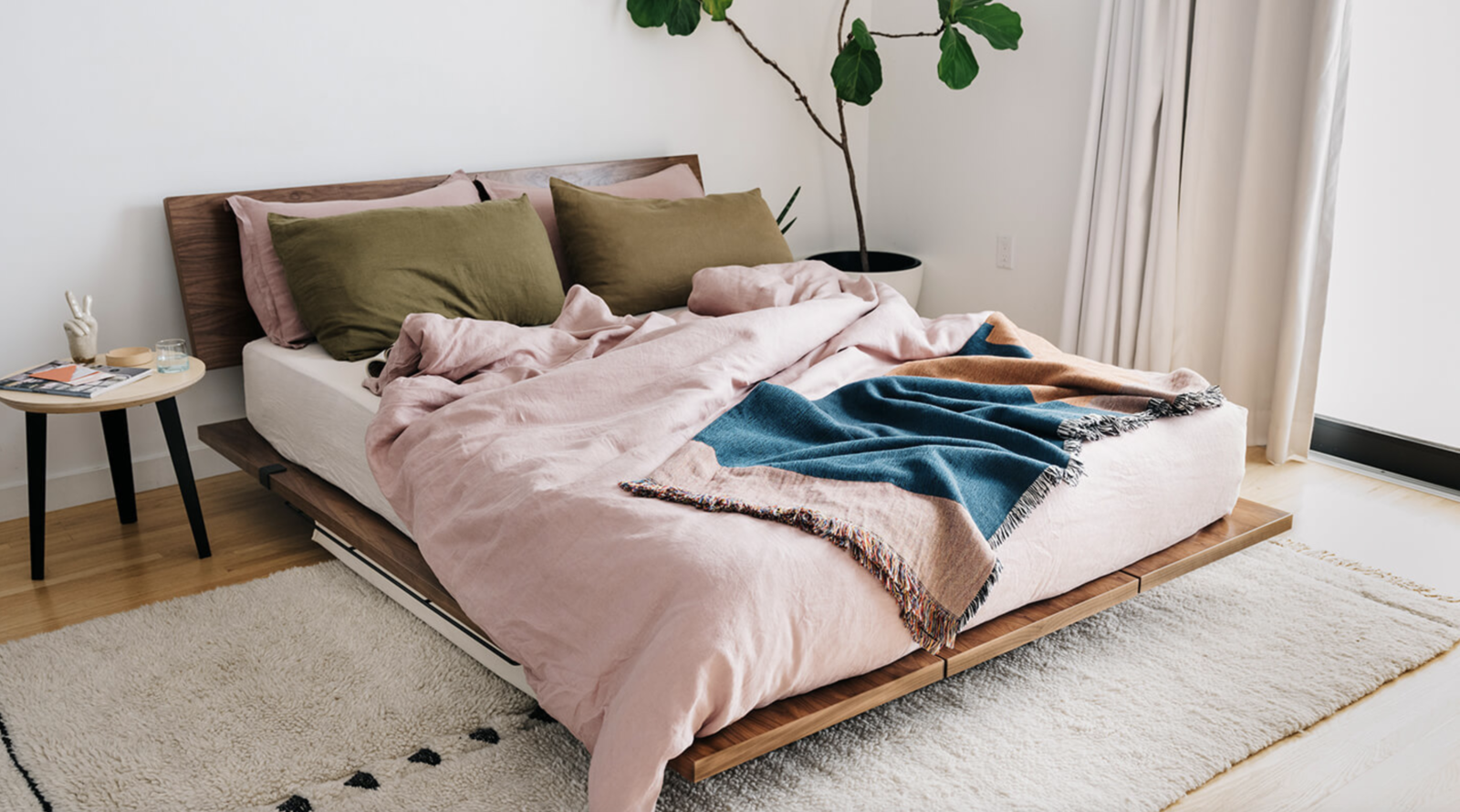 Floyd's Modular Bed Frame Offers Clean Design That's Built to Last
Available in walnut and birch, the ever-popular platform bed is easy to assemble and sizes up or down.
The days of swapping new bed frames in and out of ever-changing spaces are gone—in their stead, we've gained more functional, flexible options catering today's conscious consumer.
In 2015, Floyd's co-founders Kyle Hoff and Alex O'Dell changed the game with a minimalistic, modular bed whose wood panels can be added and removed to move from twin, to queen, to king size—allowing the piece to change with its owners' homes and needs. "About 10 million tons of furniture and furnishings ended up in landfills," Hoff recognized, which led him to the question, "How do we provide a better solution?"
The solution—Floyd's perennially popular Platform Bed—is easily adaptable and a breeze to build, thanks to a seamless assembly process that doesn't require any tools or screws. The refined bed frame drew rave reviews, prompting Floyd to create a model in a darker shade of wood to meet popular demand so that the bed now comes in birch or walnut veneer panels—both "timeless and warm materials," they note.
The FSC-certified walnut wood is derived from responsibly managed forests, a must for a brand dedicated to eco-friendly sourcing and manufacturing practices. Its proprietary, engineered honeycomb core design makes sure that the product is lightweight (read: easy to move).
With the option to include a headboard and underbed storage, the Platform Bed has become a crowd favorite that allows for an effortless transition wherever life leads next, embodying Floyd's ethos of "designing for the long haul."
Get the Shop Newsletter
Smart shopping for the design obsessed. Find what you love in our expertly curated selection of finely crafted home, office, travel, and lifestyle products.