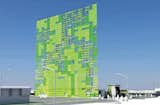 Flipped Strips
Tired of the never-ending parade of nondescript strip malls, the Scottsdale Museum of Art recently held a competition to rethink the strips.
Thirty five proposals later, a winner was selected and announced today. Architecture firm MOS from New Haven, Connecticut, had the winning design. Urban Battery, which is a "power station, vertical greenhouse, and a billboard all rolled into one" would be an energy producer, an air filter, an oxygen house, a plant generator, and will have bike paths and public gardens within the structure. And it's sure a heck of a lot nicer to look at than the strip malls around town. Not sure you'd be able to get a permit for something like that in Los Angeles, but it sure is nice to dream

See all the runners up in the competition on Bustler.

Image via Bustler.
Get the Dwell Newsletter
Be the first to see our latest home tours, design news, and more.