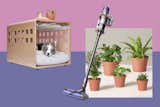 Fable Pets' Jeremy Canade's Favorite Dog Essentials Are Made for City Life
The luxury pets accessories brand co-founder has a dog living stylishly, of course.
Jeremy Canade and his sister Sophie Bakalar co-founded their design-y pet accessories brand Fable Pets around the same time Canade got Ranger, a border collie you might recognize from the Fable Pets site. "He's extremely smart and has been modeling for Fable Pets since he was a puppy so he's actually gotten pretty good at it," says Canade of his dog's on-camera charms. "We bring him to shoot whether or not he's planned to be in it because we always end up with a dog that won't do exactly what we need. And Ranger knows his marks. He's experienced," Canade says. (A proud dog dad indeed.)

As it turns out, Ranger also inadvertently tests every product before it goes to market, once a prototype is safe for pet interaction—so there's that, but the Fable Pets team also makes sure the products are suitable for all types of dogs (and not just very good border collies). Whether an owner has an extreme chewer or a food-motivated canine, Fable Pets goods are designed to work with whatever furry pals are living with you. "I think over the past couple decades, we've seen the shift in the way people think about their pets as members of the family," says Canade.
In turn, Fable Pets was founded on creating thoughtful, critically considered pieces that "really take the pet and the person into account when designing products." As bona fide members of the family, this means a dog should be able to get into a crate that is actually beautiful and comforting to sleep in. Whereas most metal dog crates resemble impersonal cages, Fable Pets dog crates are handmade from wood with rounded edges and have a clear acrylic gate. Canade says this crate was designed with both customers—the dog and owner—in mind, as it can double as decor or a side table in the living room.
"You have all the walking gear, all the grooming gear, all the toys, all the distractions and stimulations, the way you feed them, where they sleep—there's an ecosystem of products that supports living with a domesticated animal," continues Canade. "Historically they've all looked terrible and not considered for the person nor the pet. They're made out of dangerous plastics and materials that can actually kill a dog. This industry's unregulated so a lot of companies just don't put any thought into it. So it felt like an enormous gap in the market, one that we're happy to fill, to take a lot of pride in making products that are worthy of the people and the pets that they serve."
Canade and Ranger live in the Upper West Side of Manhattan, so it's safe to say that Fable Pets is just as well suited for city dwellers and those living out in the sprawling suburbs and beyond. "A minimalist style, in general, is important to me and we try and keep the products we make for the pets supportive of that—we want them to be able to integrate into most styles of home," Canade says of the unfussy and clean designs of the chew toys, dog bed, leash, bowls, and carrier. "We don't wanna have something that's exclusionary or difficult to integrate with."
As such, Fable Pets products blend in seamlessly with the other pet-centric essentials Canade can't live without like a Dyson vacuum, a fragrant dog wash, and an airy WFH office setup. As for the future of brand, "one of the most popular requests we get are for more sizes of things," says Canade of where they're headed with their current best sellers. "And we're very passionate about enrichment toys because a lot of dogs are not getting enough mental stimulation and exercise. There's lots to expect down the pipeline."
"I don't crate my dog Ranger when I go out, but he loves his crate and bed for napping and retreating to when he's feeling anxious or insecure, particularly when there are loud building and city noises."
"Pet-friendly plants from The Sill to add some worry-free greenery to your home."
"This is perfect for keeping Ranger busy while I'm on a call."
"Ranger's favorite pastime is playing fetch. Whenever the Game isn't keeping Ranger occupied and he's not napping, I'm tossing this Ball for him or hiding it around the apartment and having him look for it. It's our newest product!"
"A good vacuum might be the single most important item in your home when you live with a dog who sheds. I love Dyson's design and innovation ethos. Their animal/pet vacuums come with a High Torque cleaner head that has added anti-tangle technology which is perfect for capturing pet hair while ensuring it does not tangle on the brush bar."
"Great for humans and dogs. It's not exactly fur-resistant, but whatever, just wash it!"
"The most luxurious (and best-smelling) dog shampoo out there."
"Fresh cup of coffee + crossword + dog = Thumbs up."
"Upgrade your home setup so you can spend more time with your dog!"
"This is great for playing white noise for Ranger when I go out."
We love the products we feature and hope you do, too. If you buy something through a link on the site, we may earn an affiliate commission.
Get the Shop Newsletter
Smart shopping for the design obsessed. Find what you love in our expertly curated selection of finely crafted home, office, travel, and lifestyle products.