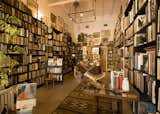 Eutopia! I've Found it!
While the rest of my Design Miami/Art Basel cohorts were traipsing around in a sea of expensive gear, white pants, and more stilettos than you can shake a Jean Prouvé side chair at, I managed to escape the fray for a stroll around Miami Beach. To my utter delight I happened upon Eutopia Books, an antiquarian bookseller that specializes in art, architecture, and design books.
Musty monographs and forgotten treasures line the shelves, though don't limit your perusal just to the considerable architecture section. I happened upon a couple novels with jackets designed by Dwell favoriteAlvin Lustig; some were even first editions.
I regret to report that Eutopia Books has no website, so those who seek unusual and hard-to-find design tomes are encouraged to log off and actually head over to 1627 Jefferson Avenue, Miami Beach, Florida. "I like people to come in and look at the books," says proprietor Nolly Ebert. "I don't want to sell books online. If I didn't like doing business this way I'd just stay at home." I suggest you do just the opposite, and make sure that any trip to Miami Beach involves a stop at Eutopia.
Get the Dwell Newsletter
Be the first to see our latest home tours, design news, and more.