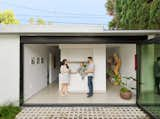 Editor's Letter: The Money Issue
When it comes to our homes, the most taboo topic is also the most relatable.
No one talks about how much money they spent on their house. But everyone wants to know. Which is why our Budget Breakdown series, in which we provide the real numbers behind home projects, is one of our most popular. And, sure, it probably starts with a bit of voyeuristic curiosity: Wait, that cost how much (or how little)? But these stories also end up being the most human and relatable that we tell. No matter what the price tag, we can all identify with the dilemma about where to save and where to splurge—the flooring or the siding, the counters or the cabinets, that Bellini sofa or a just-fine couch.
So we decided to spend an entire issue talking about money, detailing what many of the homes we feature actually cost to build—or at least paint an accurate picture of an often sprawling process. And we all know you can certainly save a bit by knowing someone who knows someone who can get a discount on a countertop. Or by having the skills and the daring to DIY some or all of a project. (Don't worry if you don't. My partner finds my DIY efforts…charming.) In a spirit of total transparency, we've noted when residents were able to pull strings or roll up their sleeves to get it done.
We also visit an architecture insider who gets some help reconciling her ambitions with what's possible on her Los Angeles lot and a group in Zurich translating their expertise as seasoned squatters into a communal housing model with some ingenious modular living spaces. The lifestyle might not be for everyone, but I can see their modules inspiring built-ins and other features in more traditional spaces. Finally, in Oregon, we look at groups of tiny homes built as transitional shelters for people who formerly lacked housing. These communities have recently been presented as a relatively affordable way to meet an urgent need, but we wanted to know what it's really like to live in one.
Money is, of course, also the reason our homes are such a source of anxiety right now. Rising rents and still-unattainable prices—not to mention mortgage rates at a generational high—have only deepened an affordability crisis. But each of the homes in this issue transforms its particular constraints into opportunities. Whether you can see yourself moving into them on a dime or not for all the money in the world, I hope they present ideas that inspire you to see new possibilities in your own space.
Top photo by Marten Elder
—