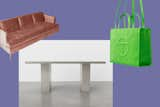 The Best Things We Bought in 2022
What do we spend our money on, you ask? It's right here!
It is easier than ever to buy basically anything you could ever dream of, but surely, some things are better than others. From a neon green handbag to a practical water filter that's basically paid for itself, these are the products and objects, that Dwell's editors and contributors bought and loved over the course of this year.
My neon green Telfar bag

My medium Telfar shopping bag isn't a home investment per se, but I'll stretch the definition of this thought exercise, because the object in question is large enough to serve as a home for many things: my wallet, three tall Spindrifts, a book, a sweatshirt, one hundred Chapsticks, and whatever else I pick up along the way. Much has been written about Telfar Clemens's egalitarian approach to luxury, but what appeals to me about the bag is not just the design—simple, innocuous, instantly recognizable and therefore classic—but the philosophy behind the brand itself. The slogan is "Not for you, for everyone," and to me, that's what should be at the heart of good design.
The bag, then, is the ideal object: functional, beautiful, whimsical, and in a hue so bright that I've now started to treat it like a neutral. Getting this bag is no longer as difficult as it once was; when new colors drop, the feeding frenzy to acquire them has calmed down some, so I was able to buy this baby without much fuss and will carry it until the seams bust. (While I'm not carrying it, it lives on a hook in my kitchen near the front door and I tell myself that it functions as art.) -Megan Reynolds, Senior Home Guides Editor
Travel Berkey
I'm so in love with my Travel Berkey! I bought it last winter as a holiday treat so 2022 was my first full year using this advanced water filtering system. Honestly, worth every dollar and cent. It has officially replaced my Brita, which always got so gnarly, never seemed to filter water as thoroughly as I'd liked, and requires too many replacements. The Berkey, in comparison, is a beast when it comes to filtering (over 200 contaminants, according to its website)—I was sold on it when I kept spotting it in friends' homes in LA, which arguably has worse water than NYC where I live.
You know it's the real deal because it's also the water filter used by campers and other people who travel a lot on the road. Plus, the filters last for a long time—they only need to be replaced every few years. I know, I know, New York tap water is great and totally safe to drink but I needed to get a Berkey for my own peace of mind. My pipes are super old and I live near a superfund site. Plus, there's never any harm in drinking extra-filtered water! This Berkey, hands down, is my favorite investment purchase for the home... ever. -Jinnie Lee
A fancy vessel for mixed nuts
The hardest thing about working from home—which I generally love—is that it's easy to let the boundaries between 'work' and 'home' blur, which in my case tends to look like halfheartedly sending e-mails and working on pitches whenever I'm watching TV (which is all the time, actually). One thing that helps is creating an end-of-day ritual, which is where this set of nut bowls comes in. I mix a seltzer with some kind of amaro, I fill each side with a different kind of nut—right now I'm doing honey-roasted mixed nuts on one side and dill-pickle flavored peanuts on the other—and set out on the coffee table with a cloth cocktail napkin. Instantly, my pre-dinner snack becomes a bona fide happy hour. As a bonus, the chrome bowls are easier to clean and care for than actual silver, meaning I can be tidied up in no more than two commercial breaks. -Angela Serratore
Some cheery bright pink cloth napkins
Oh, the soft kiss of these tasseled and shockingly durable Miami pink napkins! It's true, my standards for softness were very low: wrinkly and stiff, over-priced linen napkins in grim burgundy ruled my universe. Until my unlucky streak ended with this April Cornell set. My gratefulness abounds. -Maggie Lange
Some lovely wall decor
I moved to a new city earlier this year, and was excited to make my new apartment cozy and funky and stylish and a place people would enter and say, "Oh my god—it's so cute." Full disclosure: I have not achieved this (yet). But there was one art piece I bought that really nailed the vibe I wanted to hit, which is—if I had to put it into words—"upscale Pee Wee's Playhouse." The art piece was this "Lover's Eye" print in a gold gilt oval frame by Mary Maguire. (I got "looking left"; it spoke to me more than "looking right.") It's beautiful and strange, and looking at it gives me hope that I might one day actually achieve my own personal Pee Wee's Playhouse dream home. -Kelly Conaboy
A big comfy chair
By the end of my lease, the Ikea sectional I inherited from the former tenants of my old apartment was not only busted, but it had been, erm, housing a couple of mice (??). So, when my husband and I finally got our place, it was easy to determine that it didn't make the cut to an interstate move. While shopping for living-room furniture, we fell for the so-called chair-and-a-half: halfway between a standard armchair and a love seat and usually deeper (around 40-inches), it allows you to curl up and lie with your legs and back propped onto each armrest. Regardless of how minimalist its design is, it commands the attention of the room. In that way, it resembles a throne. It embraces you like your favorite weighted blanket, the perfect wintertime nest. Ours, a Lane Furniture model on clearance, was a lucky find (I'm not buying something that will ship 20 weeks from ordering), but similar styles abound! -Angelica Frey
A pair of Instagram-famous tights that didn't live up to the hype
Last winter, I succumbed to incessant Instagram ads for Sheertex tights and I have some regrets. For a product that is billed as "rip-resistant," I was disappointed to see my tights had runs in them after only a few wears. At $59 a pop, the cost-per-wear is hard to stomach. -Erin Mahoney, Senior Marketing Manager
Linen! Sheets!
How I lived without linen sheets for the first 35 years of my life, I'll never know. Hands down, the best purchase I made this year was a set of Sijo French flax linen sheets in light sky blue. They're cool in the summer, warm in the winter, and truly get softer with every wash. -Jessica Dailey
A good pair of pants
After several years of hating shopping, I came back this year with a vengeance, in no small part because of the best store I've ever been to: The Consistency Project. This is truly a "I hate to recommend it because then it will be ruined situation," but at this point, my friends and I have already told so many people about it that the jig is up (we have a group chat devoted to them and they know us by name).
Specializing in deadstock Stan Ray's, jeans, and reworked vintage, this store, known to everyone in my life as "the pants place," is a truly special shopping experience. If you're in the New York area, you go in to get fitted, and they keep your size on file, making it easy to buy online later—or come in to buy more pants, because they'll easily pull more for you to try on. (Those elsewhere can measure at home and have items shipped.) The women who run it are lovely, inclusive, and very chill, and it is their fault that I won't name how many pairs I have now. But I've never been more comfortable. - Kate Dries, Executive Editor
A big comfy couch
My favorite home purchase this year was also the splurgiest thing I've ever bought: the Cobble Hill Boutique Sofa from ABC Carpet and Home in a blush color (Rosewood). My first apartment sofa was a very lived-in Ikea Klippan I got from a coworker—only $40 to have it delivered. But now I like investing in large items I'll have for years. When I walked into the ABC outlet in Industry City, this floor model was sitting across from the entrance, calling my name. I immediately gasped, sat on it, and melted. It was the exact look I wanted: bold and chic, a soft textured velvet in one of my favorite shades of pink. The sticker shock almost killed me, but luckily, my partner was able to negotiate a discount. It still took me about two hours to deliberate and say yes, but it's worth it for how much it brightens my mood. -Clover Hope
A backpack for every adventure
2022 was the year I started traveling again—and I've taken this pack with me on every single trip. Not only is it tough as tacks and slick as heck, but it's probably the most thoughtfully designed bag I own. The ConcealPack sits flat, zips fully open, and slides under a plane seat—so it's a carry-on dream. Every compartment, pocket, and pull is dialed in at exactly the right size and place, and it perfectly fits a large packing cube, a small daypack, a dopp kit, and a laptop—which is all I need to hit the road for weeks at a time. It takes a lot of skill, experience, and thought to build a minimalist product that works well—and I've loved carrying this one from the streets of Helsinki to the dusty backroads of British Columbia. -Mike Chino, Senior Design Editor
A "grown-up" dining table
After eight years of knocking elbows while dining and banging away at various art projects on Blu Dot's charming but compact Sprout 36" Café Table, a new apartment finally opened up room for something bigger. After months of research, I found that high design dining tables seemed far too large for my apartment (on average 86" or longer) and also were completely out of my budget. (If cost wasn't an issue, a Waka Waka Pill-Shaped Dining Table would be my pick.)
Luckily, a random Google search for "concrete dining tables" led me to True Form Concrete in Warton, NJ. I immediately loved the minimal, slab-based Chelsea Concrete Dining Table at my ideal size of 72" long. It did blow my budget, but it arrived fairly quickly for being made to order locally. It's definitely my biggest, best, and heaviest piece of "grown up" furniture. -Suzanne LaGasa, Creative Director
We love the products we feature and hope you do, too. If you buy something through a link on the site, we may earn an affiliate commission.
Get the Shop Newsletter
Smart shopping for the design obsessed. Find what you love in our expertly curated selection of finely crafted home, office, travel, and lifestyle products.