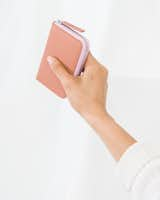 Dwell Picks: 9 Products We Can't Stop Gushing About This Spring
We all have our seasonal obsessions—the Dwell team spills about the items we're swearing by this spring.
If you've ever wondered what gives the Dwell team major heart eyes, look no further—or do, because we've made a list of our springtime recommendations we won't shut up about.
Whether you're looking to add a pop of color into your closet, or are gearing up for some spring cleaning, here are our pet products that are everything but floral, and definitely groundbreaking.
Jenny Xie, Executive Editor:
"I have a big crush on Bang & Olufsen in general, but I particularly love this powerful, portable speaker that I've taken to campgrounds, picnics by the lake, weekend Airbnbs—and most often to the kitchen to listen to podcasts while I cook. It's big and rich in sound and super sleek in looks (with lots of new, limited-edition colors to choose from). Just don't drop it and dent it like I did."
Daniel Miesner, Product Management Director:
"Now that it's warming up, BBQs are on the agenda. I love this Kuchoma Grill which is compact enough to fit on the tailgate of my truck. Are apartment parking lot tailgate parties a thing? They are now."
Mike Chino, Senior Editor:
"I've been on a minimalist style kick for the past few years, but I've been feeling the urge to wild out lately. These textured, leopard-print high tops turn the volume way up, yet they play nicely with wardrobe basics like black jeans and denim jackets. They don't match anything, so they go with everything."
Duncan Nielson, Editorial Support:
"In springtime, the faster I can throw something on and get out the door, the better. A slub tee fits the bill: it doesn't wrinkle, is lightweight and breathable which make it well-suited for warmer weather, and the loom process adds texture for style points. Also, 'slub' is the most relaxed word ever."
Haley Heramb, Branded Content Manager:
"Now that it's getting warmer, I'm craving cold brew over hot coffee—I've found that it's super easy to make at home by soaking grounds in my French press in the refrigerator overnight!"
Sam Daly, Editorial Assistant:
"I finally got off my butt and quietly retired my wallet-that-was-technically-just-a-coin-purse that I bought in 2015 in favor of this zippered model from Baggu. It has card slots, a center coin pouch, and it was on sale for $48! Love accidentally stumbling on a good deal."
Sydney Sibelius, Social Media Associate:
"One of my favorite things about springtime is the abundance of fresh vegetables! Farmers markets are overflowing with various seasonal produce, and I love taking my goods home to build a beautiful salad. Spring is the perfect time to experiment with new ingredients and recipes!"
Maris Berkowitz, Sales and Marketing Assistant:
"I've been on a bit of a spring cleaning kick—so much so that my ancient vacuum cleaner actually died on me. I decided it was time to invest in one that would last, and so I went for this Dyson vacuum; at first I thought it was overpriced, but soon after using it I realized how much of a game-changer it really is. Cleaning is no longer a chore; I actually love using this product and enjoy how easily it gets the job done! This vacuum is a spring cleaning must-have."
Samantha Ramirez, Editorial Support:
"As soon as the weather starts to brighten up, and I start to feel like the sky and everything around me becomes more colorful, I feel like adding a pop of color into my own style as well—and I think red is a bold color, without being too cliché."
Get the Shop Newsletter
Smart shopping for the design obsessed. Find what you love in our expertly curated selection of finely crafted home, office, travel, and lifestyle products.