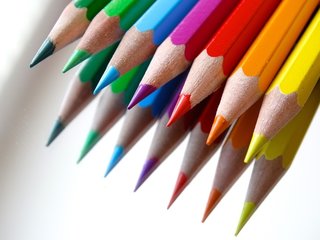 Always a sucker for well designed architecture and products, I must admit I go a little mad when color has been introduced to the equation. Ever since I was a small child, I have always been drawn to vivid colors, and often sought out bright objects to play with. While other kids were playing with action figures, I couldn't get enough of my colorful logo sets where I was only limited by my own imagination. These are some of my favorite projects and works that express my mild obsession with the use of color...
Yolo Colorhouse / Paints

Poster-sized sample swatches, a host of attractive colors, and nontoxic paints let pint-sized paint company Yolo Colorhouse handily compete with their mega-sized corporate competitors.
Photo by Peter Belanger
Polychromie Le Corbusier by kt.COLOR

Produced with the Le Corbusier Foundation, this historically faithful swatch of 81 hues was sourced from the architect's own wallpaper samples, paint chips, designs, and storied investigations into the essence of color.
Add credit
Just Glaze

Double-glazed windows are typically composed of two layers of glass with a layer of air in between. You might spend more on them upfront ($200–$1,500 each), but the extra insulation can save loads on your heating bill and more than recoup your investment over time. weathershield.com
Photo by John Clark
Paper installation (2013)

For an installation for the Japanese paper manufacturer Takeo, architect Emmanuelle Moureaux suspended 840 pieces of paper in a spectrum of 100 colors.
Add credit
Get the Dwell Newsletter
Be the first to see our latest home tours, design news, and more.