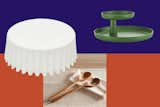 Serveware Doesn't Have to Be Boring
Treat your food with the respect it deserves and buy yourself something nice.
When it comes to dining, life—as they say—really does come at you fast. One minute you're taking the train home for Thanksgiving, secure in the knowledge that your relatives will handle things like "cooking the turkey" and "having something to put the turkey on," and the next minute you're the one frantically rooting through your cabinets, searching for something that will safely pass as a gravy boat. Or maybe you and yours regularly spend Saturday nights at your city's trendiest restaurants, before realizing that the music is really loud and that actually you'd love to be able to try your hand at making Ina Garten's perfect roast chicken—but where are you supposed to carve the chicken, and also, will the steak knife you have at home work, or do you really need a carving knife or what?
If either of these situations rings a bell, you might be ready to start hosting—a real milestone! And while you almost certainly have a positive attitude and a generous spirit (really the two most important host qualities), you might not have the serving dishes and accouterments that will make even the coziest studio apartment feel like a well-appointed bistro. Continue scrolling for a course-by-course breakdown of the serveware that will have everyone you know desperate for a reservation at your place.
A nice place to put your Green Goddess dip
A chip-and-dip tray is a delightfully mid-century-ish object (IYKYK) that, rendered here in a neutral tone and a sleek shape, is surprisingly versatile in the contemporary home: obviously old-fashioned onion dip and potato chips is always a crowd pleaser, but it also works for guacamole and tortilla chips, marinara and arancini, or fancy mustard and anything.
Georg Jensen has been making silver and stainless steel into art since the late 19th century, and these Art Deco-inspired bowls are an elegant way to serve nuts and olives you bought at the grocery store 20 minutes ago.
Make your appetizers shine
Like goes with like, which is why salad (natural, comes from the earth) always looks great in 1970s-esque wood bowls (natural, comes from the earth).
Dedicated salad servers make even a simple arugula and vinegar salad say 'I am simple and refined' instead of "these greens were about to go off and I had to use them somehow." The medium-toned wood looks good when paired with other neutrals or with brighter bowls and dishes.
If you're short on space, go up—this bright Finnish-designed tray has two tiers, so you can stack a bunch of mini puff pasty-centric bites or dozens of pastel petit fours on even the smallest table.
Show that rump roast a little love
Here's a tip: if your cookware is beautiful enough to double as servingware, you won't have to waste time and energy transferring your glorious gratin dauphinois from one dish into another.
The gold splatters that stretch across this platter, sized for a whole roast chicken, a beef tenderloin, or a bright vegetable medley, add visual interest without distracting from the star of the show (your cooking, of course).
Heath Ceramics pieces have been coveted since the mid-20th century, when they married simple mid-century shapes with earthy, Arts & Crafts-inspired colors and textures. A few of these bowls will instantly elevate whatever you put in them, making them a great option for anyone (including me) who prefers to serve their guests takeout.
As promised, a carving knife! This one, beloved by chefs professional and amateur all over the world, will give you neat, even slices, which in turn means one less thing to worry about when hosting your first holiday dinner.
Your cake (or pie) deserves a nice place to rest
It's a bowl… it's a stand… it's a bowl and a stand? Leave it to MoMa to find this dessert dish you can use to present an apple pie or serve banana pudding, with ridged white edges that evoke the classic paper cupcake wrappers you've been seeing at childhood birthday parties for decades.
You can put anything on a cake plate—really! Cookies look great piled high, as do mini fruit tarts and, obviously, cake itself (boxed Funfetti is always a crowd-pleaser). Jadeite is the classic Mosser colorway, and it'll never go out of style, but I'm also partial to the deep eggplant version, which will look especially good with richly-colored berries and vibrant citrus accents.
Get the Dwell Newsletter
Be the first to see our latest home tours, design news, and more.