View Photos
High Design: 10 Pipes You'd Proudly Display on the Coffee Table
In honor of 4/20, we're celebrating the too-cool-for-school pipes elevating today's cannabis industry.
Long gone are the days of oversized bongs and gaudy, glass-blown baubles. In the wake of cannabis legalization, a new wave of smoking culture has elevated the stoner aesthetic: ganja aficionados can now choose from a range of modern pipes in trendy hues and soft, organic shapes. Discreet in design, these devices double as eye candy and conversation starters. Below, we've rounded up the prettiest pipes around.
The Hudson Pipe by Laundry Day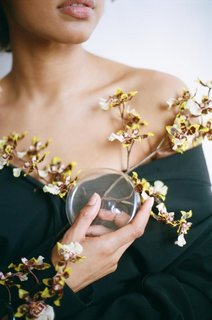 Newsletter
Join the Daily Dose Newsletter
Get carefully curated content filled with inspiring homes from around the world, innovative new products, and the best in modern design
Developed to shift the visual narrative behind cannabis use, Laundry Day, founded by Victoria Ashley, presents a range of design-forward products that harness the aesthetic of the 1970s. As sophisticated as they are playful, their pieces double as home decor. With a circular glass form, their Hudson Pipe looks like a minimalist vase and comes in 10 different colors. Plus, you can even get a chic sheepskin carrying case by Vancouver–based brand, Your Bag of Holding.
The Del Mar Pipe by Pursuits of Happiness
Created with the intention of incorporating art into daily routines, The Pursuits of Happiness has a playful collection of ceramics, all created in-house and made in small batches. Fusing natural elements with nostalgic design, their pieces are beautiful without taking themselves too seriously. Take, for example, the Del Mar Pipe, which takes the form of a seashell to evoke the feeling of basking on a warm beach.\
The Curl Pipe by Debbie Carlos
Hailing from a diverse background in psychology and photography, the L.A.-born, Midwest-based Debbie Carlos peddles everything from prints to jewelry to ceramics. Her set of sophisticated wares flaunts fluid curves and movement, and it's hard to say which of her pipes is the most compelling—the full twist of the Curl Pipe, or, say, the cheeky and minimalist It's a Pipe. She even teaches workshops on how to make a ceramic pipe and ashtray set in Chicago.

Pipes by Miwak Junior
Mainstays in the West Coast craft scene, Chilean artist Sebastian Boher and writer Alice Johnson Boher bonded over Sebastian's creation of a smoking device in a community college ceramics class—where making such things was strictly prohibited. He tried twice and failed, but his third pass made it through, successfully creating an "objet of beauty with a discreet functionality." Based out of Echo Park, Los Angeles, Miwak Junior's pipes resemble smooth, skipping stones in a spectrum of hues from a deep moss green to natural stone.
Chillum Smoke Set by Stephanie Intelisano
Based in Oakland, California, Stephanie Intelisano was a packaging engineer for major brands like Method, Bare Minerals, and L'Oreal before she decided to take her ceramics side hustle full time. Amid whimsical mugs, canisters, planters, and pour overs, she introduced a Chillum Smoke Set in her signature tones—peach butter, olive tree, and green sand. She wanted to create something that fit the aesthetic of her home and could sit on her coffee table while remaining discreet and beautiful. The idea was to keep the shapes simple so they'd relate to each other and live together as a single item. She hand-carves the notches for the chillum to nest in, giving each an organic feel. Her inspiration? Ice buckets with integrated tongs.
Geopipe by Stonedware
Founded by artist Ariel Zimman of RELM Studios, Stonedware is handcrafted in Portland, Oregon, with porcelain and finished with food-safe glaze and 22K gold. She developed the line to help users form a deeper connection with their daily objects. The Geopipe—available in 14 colors from soft pastels to dark, inky tones and in three different sizes—is hand-cast in porcelain and hand-painted. The piece is a pretty gem with a combination of glazed and unglazed faceted sides that could easily fit into any setting as a chic decorative piece.
Tobogan Pipe by Neenineen
Paris–born Ninon Choplin is a queer artist designing whimsical, ceramic delights in Los Angeles. Standard everyday items like cups, bowls, canisters, and yes, pipes, are transformed into playful artwork when they're imbued with organic forms and cheerful colors. The wiggly Tobagan pipe, slipcast with tinted white stoneware, comes in solid pastels in blue, red, and yellow, or a hand-painted checkered pattern calling to mind a friendly snake.
Triangle and Half Circle Pipes by Yew Yew
Founded by artist and prop stylist Jenny Wichman in Rockaway Beach, New York, Yew Yew was created out of part curiosity, part necessity. She wanted a pipe that would dually fit her lifestyle and "proudly live on a countertop." She collaborates with female artists and has developed a line of charming, wedge-shaped pipes in seven tones with amusing names like Slime, Succulent, and Cherry. The triangle and half-circle contours are entirely unassuming, and could easily be mistaken for a salt shaker or a lip balm.
Ring Pipe by Lindsey Hampton
Vancouver–based Lindsey Hampton is a multidisciplinary artist whose professional creative range has spanned from ceramics and design, to experimental music, to photography and illustration. It's her eclectic background that's shaped the foundation for her ceramics—handmade pieces with colorful matte and speckled finishes. Her Ring Pipe is a balance of classy and kooky: the slender, donut-shaped stoneware ring comes in a myriad of three-tone selections with an ombre effect on the body and a bold color juxtaposition for the glazed bowl.

Marble Pipe by Fredericks and Mae
Founded by two friends with a shared love of materials, Fredericks and Mae began in the first studio of Jolie Mae Signorile and Gabriel Fredericks Cohen. Together, they create and curate home goods with a sense of history. Their cone-shaped Marble Pipe with brass screen looks more like a stylish ring holder than something to smoke out of—even the box says "Ceci n'est pas une pipe," which is "not not true," their website quips. The mouthpiece sits at the top, while the carb is on the bottom immersed in an engraved ring of stars. Get it in two classic tones: black or white.