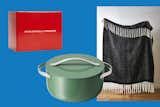 A Few Fabulous Finds for the Friend of a Friend
If you have to get a gift for someone you don't know that well, these objects are a surefire bet.
Ever ran into someone new who happens to be a friend of a friend? And then hit it off enough or have enough mutuals to be invited to their next holiday party, where you are obligated or expected to bring a gift? Buying for these people in our lives can seem daunting —you hardly know the person, yet you want to get them something that they can enjoy!
Before you panic, utilize the middleman friend! (The friend both you and this new acquaintance are close to). From there, gifting should be a piece of cake. We've curated a list of ten fun presents that would work for a variety of acquaintances.
Get them a really nice candle
Basic never lets you down! A high-quality candle is a perfect present for someone you've just gotten to know. Match the scent to the holiday for extra oomph.
A really luxurious piece of cookware
If you have a clue that the receiver of your gift loves spending time in the kitchen, a wonderful piece of cookware, like this non-toxic ceramic-coated dutch oven, might be the perfect gift for them.
An icebreaker game that'll only bring you closer
Maybe a little weird, but if you feel like you vibe well with this new acquaintance and would like to get to know them better, give them a game like We're Not Really Strangers! You can play it together and build your new friendship.
If they're really into wellness…
Use your middleman friend to find out some basic facts about this person. Are they the epitome of the LA wellness girl? A bougie superfood latte like this Matcha Turmeric pack may be a fun way for them to kickstart wellness dreams.
A zero waste gift
More and more people are making sustainability a part of their lifestyle. You can't go wrong with a zero-waste gift like this Night Routine Gift Set from the Package Free Shop.
A really good book
Bookshop.org
Home Cooking: A Writer in the Kitchen
Weaving together memories, recipes, and wild tales of years spent in the kitchen, Home Cooking is Laurie Colwin's cookbook manifesto on the joys of sharing food and entertaining.
Shop
Sometimes, the best gift of all to a friend, foe, or almost a stranger, is a good read. Pick a book that inspires joy or introspection and write a little note inside the cover to personalize it.
For the caffeine connoisseurs
Copper Cow Coffee
Classic Black Ground Coffee
100% Vietnamese Origin Coffee: Our unique blend of robusta and arabica coffee exude tasting notes of rich chocolate and nutty undertones with a smooth finish. Sustainably Sourced: We pay our Vietnamese farmers 2x market rate and partner with them to drastically reduce their environmental impact. Brew Your Way: Our universal grind works with whatever home coffee maker you're loyal to - drip, french press, cold brew, pour over, and more.
Shop
The middleman friend is key here! Find out if the friend of your friend is one of the millions of people who treat coffee like an art. If yes, a bag of novelty coffee is a thoughtful gift as any.
An Interesting Vase (with Flowers)
Spread some joy with your present by gifting your kind-of-friend this funky vase. Give some flowers with it, and when the flowers bloom, so will their friendship with you.
A neutral throw blanket that'll go with anything
Household gifts may feel like a risky present, but you can truly never go wrong with a warm blanket in an inoffensive color palette.
Looking for something else? Check out the rest of our holiday gift guides here.
We love the products we feature and hope you do, too. If you buy something through a link on the site, we may earn an affiliate commission.
Get the Shop Newsletter
Smart shopping for the design obsessed. Find what you love in our expertly curated selection of finely crafted home, office, travel, and lifestyle products.