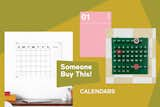 Make Organization Fun Again With These 2023 Wall Calendars
If you like looking at it, you'll actually use it.
Welcome to Someone Buy This!, a monthly shopping column featuring the fun, the frivolous, and the practical from a very discerning shopper.
Congratulations! We've made it to December, a great time to call this whole thing a wash and promise to do better next year. One of my favorite ways to prepare to "plan ahead" is by buying one or more beautiful calendars. Calendars are an underrated piece of decor, often deemed unnecessary because of the tiny computers we carry in our pockets. When's the last time your calendar app made you smile, though? Do you get even an ounce of joy when you check for today's date on your phone's home screen? That's what I thought.
A calendar can live on your desk, console table or wherever you drop your mail and keys. You can also incorporate one into an existing gallery wall. And don't limit yourself! Who says you can only have one?
"Artsy" calendars, if that's what you need to actually use it!
I'll start with the 37th annual "Nib Geebles" calendar because it's the one I've been buying for the last three years. It's a collection of 12 paintings by LA artist Gordon Henderson, who is also an announcer for KPCC, LA's public radio station. Henderson's style is very much my thing: Colorful, a bit kooky and slightly disturbing. The calendar comes with the standard holidays marked throughout the year, but he also adds little notes on certain dates. This year's box for December 20th reads: "Imagine a world without plastic." The paintings for each month are so beautiful that you might want to save and frame them. (Henderson is a pretty interesting guy! I enjoyed this podcast interview he did.)
Staying within the artist/illustrator theme: Deep Cereal is a product of New Jersey-based artist Lauren Donovan. Each month in her calendar features a new portrait complete with floral accessories, jewels and animals.
Each passing day adds a new spot of color on this MoMa calendar. It's just over three feet tall, making it much bigger than a "regular" calendar and a fun addition to any office or kitchen area. You punch out each day and each month eventually turns into a different colored stripe. This calendar is not something you keep at the end of the year but honestly it might feel satisfying to recycle it and welcome a fresh start.
Parks Project's 2023 calendar highlights 12 of the country's national parks in a colorful block-stamp style. This one would fit right in among your existing decor. An added bonus: Each Parks Project purchase helps fund a national park maintenance project.
You may want to write and actually plan things on your wall calendar. Here are some picks that have room for all your events and musings.
I love the flexibility and simple design of Poketo's poster-sized calendar. You can put up one sheet at a time as the months pass or make it a gallery wall situation. If you want to do a lot of written planning on your calendar, the date boxes are big enough for writing or even mini post-its.
Like Poketo's calendar, this one is big enough to write on, but it will also kind of call you out. Are you motivated by pressure or shame? Check out the boxes at the bottom of this calendar that ask: "What have I accomplished this year?" If this will drive you to get shit done, I support it. Personally, I think this calendar should mind its own business but whatever.
These calendars say: "I want to know if it's Friday yet but also LOVE 2 LAUGH."
It is not an opinion but a 100 percent scientifically-proven fact that the Reductress is the best website on this cursed internet. Everything they do is beautiful and perfect, including the merch. Their daily calendar, 365 Days Of Womanspiration, is an excellent gift for yourself and/or someone you love. Every day you'll rip the page and get a new funny and painful headline like: "How to Avoid Negativity Now That You're Over The Drama You Created" or "Wow! This Woman Transformed Her Brita Into a Regular Pitcher by Forgetting to Change the Filter." You'll laugh so hard you might actually cry, and maybe finally change that Brita filter.
Listen, this is not normally my thing but I really laughed at this one. The pun, the photos, the fact that someone, somewhere came up with this and made it real…I love it all. It's an inspiration, frankly. If you buy this, please send me a photo of it in your home or office. I'm serious.
Some of you may not be into buying a new calendar every year (I can't relate, but fine!), so these are for you.
This is a colorful spin on a classic desktop cube calendar. Sure, you'll have to remember to turn the cube every day but what else will give you purpose in life?
The Ring-A-Date is an updated version of a calendar designed by Giorgio Della Beffa in the 1970s. I love the simple but bold design. Ring-A-Date's website sells the date rings in different colors so that you can fully customize your look. If you're lacking table or desktop space, this is basically a wall-mounted version of a cube calendar.
This list would not be complete without a dry-erase calendar. The Girl Friday acrylic calendar from West Elm is one of the few dry-erase calendars that isn't a massive eyesore. There's a few color options and the date boxes are big enough to write in. When the month is over you erase it all and start again.
We love the products we feature and hope you do, too. If you buy something through a link on the site, we may earn an affiliate commission.
Get the Shop Newsletter
Smart shopping for the design obsessed. Find what you love in our expertly curated selection of finely crafted home, office, travel, and lifestyle products.