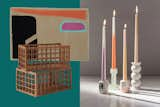 January Is a Great Time to Upgrade Your Life (a Little)
Who needs resolutions when you can buy some good stuff on sale?
The consumer frenzy that is the holiday season has died down, but there's no rest for the weary—or the wicked. Now that we're smack in the middle of "Bad Winter", you might as well take a long, hard look at your belongings and see if they can't use a little refresh. Ahead, some excellent deals for every room of the home on products that will make your life slightly better in every which way, be it comfort, aesthetics, or, ideally, a combination of both.
Acrylic storage bins are one way to organize your things, but these Shoji-inspired bamboo bins for the pantry from Ms. Organization herself, Marie Kondo, are on sale and, dare we say, beautiful?
It won't feel like midnight at 5 P.M. if you light these candles! (You'll need the candlesticks, too.)
Cold Picnic's textiles are instantly iconic and recognizable, so please do not sleep on this rug, for whatever area of your home that might need a little pick-me-up.
If you run hot or share a bed with a person whose body temperature at night feels like cuddling next to a furnace, then this set of bedding essentials from Buffy will fix it.
We love the products we feature and hope you do, too. If you buy something through a link on the site, we may earn an affiliate commission.
Get the Shop Newsletter
Smart shopping for the design obsessed. Find what you love in our expertly curated selection of finely crafted home, office, travel, and lifestyle products.