View Photos
Budget Breakdown: These Transitional Homes For At-Risk Clients Cost Less Than $200K
Florida firm Process Architecture's series of modern, affordable, low-maintenance homes help HIV/AIDS clients and LGBT homeless youth get back on their feet.
Orlando–based design firm Process Architecture is making a case for the healing properties of architecture—for less than $200,000 per house.
Cost of Construction
$19,330
Concrete
$9,550
Masonry
$1,500
Metals
$9,222
Framing
$15,225
Millwork & Carpentry
$1,385
Wood Trusses
$2,502
Wood Rainscreen
$2,840
Insulation
$4,470
Roof

$1,458
Soffit
$16,914
Windows, Doors & Hardware
$7,872
Stucco
$10,990
Drywall & Framing
$9,275
Flooring & Tile
$7,450
Paint
$6,940
Plumbing
$2,717
Roller Shades
$7,898
HVAC
$11,629
Electrical




Grand Total: $149,167
General Contractor Costs
$33,632
General Conditions
$23,026
Overhead & Profit
$11,600
Labor Burden
Grand Total: $68,258
Tapped by Aspire Health Partners, Florida's largest behavioral health nonprofit, the firm designed and built affordable transitional housing to serve high-risk HIV/AIDS individuals and LGBT homeless youth.
Get the Dwell Newsletter
Get carefully curated content filled with inspiring homes from around the world, innovative new products, and the best in modern design.
"This new affordable housing model is not only functional, but also serves to satisfy both psychological and aesthetic purposes for individuals pursuing drug-free, productive lives," explain the architects of the prototype that has been nicknamed the Aspire House and funded through the HUD program HOPWA (Housing Opportunities for Persons with HIV-AIDS).
Four Aspire Houses have been completed to date, each spanning 1,260 square feet with three-bedroom, two-bath floor plans. Design and construction costs average $186,000 per home, or approximately $134 per square foot.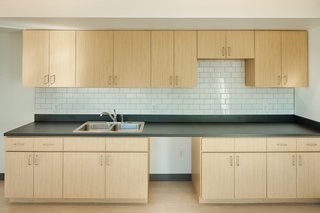 The custom-designed homes not only needed to meet requirements for low maintenance and accessibility, but also had to stylistically blend into the existing neighborhood, which mainly comprises older homes.
Drawing inspiration from the traditional vernacular, Process Architecture designed a contemporary reinterpretation of the shotgun house, a southern housing typology where the front and rear doors are aligned with no interior hallway.
Tall ceilings and ample glazing establish a connection with the outdoors and give the modern home a bright and airy feel conducive to healthier lifestyles and drug rehabilitation.
"The homes could be sold out of the program in the future if necessary," adds Process Architecture of the fully accessible houses.
"On the private market, the house can function as a compact, family home…[and] as straightforward, modern, affordable, starter homes for first-time homeowners or even scaled-down living for seniors. The Aspire House was designed as a sellable residential design relevant to a broad demographic."