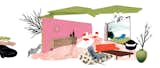 All the Home's a Stage
Whether you're selling a hillside Neutra or a modest carpeted condo, home staging has become the norm in today's uber-competitive real estate market.
And more sellers than ever are staging modern. Modern design befits a staged living environment because of its clean lines and purity of form. It delivers a sense of cool urbanity, blissfully free of that icky lived-in feeling. You may relish the nostalgia of country floral wallpaper or grandpappy's hand-whittled bar stools, but potential buyers do not. They don't care about your kickin' eight-track collection or your Lynyrd Skynyrd airbrushed pool table—even if it is ironic.
Join Dwell+ to Continue
Subscribe to Dwell+ to get everything you already love about Dwell, plus exclusive home tours, video features, how-to guides, access to the Dwell archive, and more. You can cancel at any time.