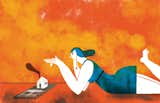 Adventures on Craigslist
No, not those kind of adventures, Mr. Casual Encounters. We're talking about house hunting.
There are many online apartment-finding services (StreetEasy, Naked Apartments, HotPads, to name a few) but good ol' Craigslist is still the free and comprehensive resource for finding a new place to live, especially if you don't feel like springing for hidden fees. We decode a few terms, dispel a few myths, and show you how to spot a broker in hiding.
Join Dwell+ to Continue
Subscribe to Dwell+ to get everything you already love about Dwell, plus exclusive home tours, video features, how-to guides, access to the Dwell archive, and more. You can cancel at any time.