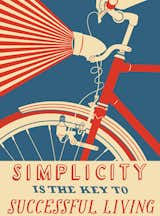 6 Practically Free Design-Minded Gifts
Inspired by the great depression, this poster is a free download (along with 4 others) through Readymade Magazine. It reflects the growing holiday attitude that less is more and that people are being conservative with cash.
If you're looking for other ways to keep the holidays simple and affordable, here are 5 other practically free modern minded gifts:



Make an Alpen Glow Village via Swiss Miss—all you need is paper, an Exacto knife, and some patience.



For the person that has everything, including an iPhone, get them a memorable wallpaper. Free if you use your own photo or one from Flickr. Find the Hoff from Chris Glass's compilation.



There's nothing like a homemade pie. Bake an Apple Apple Pie for your Mac loving friends. Spotted on Unplgged.



Following these instructions, make an elaborate pop-up card out of any photograph you have in your archives.



Give this Obamabats font to the Democrat of your choice. The dingbats are a free download from Jeff Domke.
Get the Dwell Newsletter
Be the first to see our latest home tours, design news, and more.