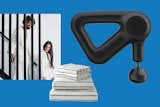 3 Things You Need for a Quick and Dirty Moment of Relaxation
Use all the holiday deals flying around to cobble together your own moment of peace.
It goes without saying that the end of the year is inherently stressful. Family time! Cooking for twelve! Patiently enduring repeated inquiries about help in the kitchen! We weather these tiny storms as if on autopilot, rarely pausing to find a moment's respite, even if that respite is just looking at Instagram in the corner of the living room before the dishwasher finishes its rinse cycle.
While the described scenario is a nice way to take some time for yourself, we urge you to go a couple steps further. We've found three great deals today that should help you along your path to relaxation and peace.
First, upgrade your bedding with some soft flannel sheets in a fetching herringbone stripe—even if you don't have a second home somewhere in the country, you can pretend your third floor walkup is a cabin somewhere moody and boreal.
Now that that's sorted, give your robe collection a thorough edit, and replace the ratty terrycloth number you've been wearing for years with something waffle-y, cozy, and light.
If you've followed this to the letter, holiday happiness and solitude awaits. The final touch? A massage tool that we believe is meant for athletes, but is also great for anyone whose muscles might ache from, say, lifting a giant turkey out of the oven or strapping a Douglas fir to the roof of your Subaru. (While this is not on sale, it is worth every penny.)
Congratulations! You're relaxed! Have a lovely holiday season.
We love the products we feature and hope you do, too. If you buy something through a link on the site, we may earn an affiliate commission.

Now that you're feeling good.....
Get the Shop Newsletter
Smart shopping for the design obsessed. Find what you love in our expertly curated selection of finely crafted home, office, travel, and lifestyle products.