2010 Pritzker: Sejima and Nishizawa
Kazuyo Sejima (just the second woman ever!) and Ryue Nishizawa of the Japanese architecture firm SANAA were awarded the 2010 Pritzker Prize. The pair (just the second duo to win the Pritzker Prize) were certainly no surprise as winners; critics and colleagues have feted their work for well over a decade. Though the many of their buildings are in Japan, big recent hits like the 2007 New Museum of Contemporary Art in New York City and the just-opened Rolex Learning Center in Lausanne, Switzerland have helped the define the pair's stripped-down, gentlry monochrome aesthetic. Call them reluctant expressionists, or maybe winking formalists, Sejima and Nishizawa's win was well-deserved, and a fine reminder that not every building (nor every architect) should employ thoughtless bombast or come off as a bit of sculpture writ large.
Via Twitter I had speculated that this year's prize might go to the very high-profile Santiago Calatrava (I'd posit he's the biggest name in the game not yet to win one), or perhaps the tech-minded Sir Nicholas Grimshaw, or even to Sejima and Nishizawa's countryman Shigeru Ban. I'm glad I didn't put any money down.
I've only been to one SANAA building, and seen a seconed from afar. On a trip to Switzerland last year I spied from a significant distance a building they've designed for Weil am Rhein, Germany Vitra campus, but got to take a hard-hat tour of the then-under-construction Rolex Learning Center.
A massive new addition to the campus of the Lausanne engineering school, EPFL, the Rolex Learning Center was just a massive, undulating concrete shell when I saw it. Clad in a hard-hat, reflective vest and knee-high Wellies to better tromp through the collected puddles, my group wended our way over exposed rebar and miles of hoses and pipes. Nonetheless, the formal vision was clear. The curving pedastal had a topography of its own, one mirrored by the actual structure, which dipped and rose like some organic spacecraft above us.
Views from the central courtyard stretched straight out to the massive mountains nearby. That the local tectonics were a point of departure is manifest, and to all their grandeur, the Rolex Learning Center gracefully deferred deference. SANAA seem to have a knack for that, letting the landscape win in all aesthetic clashes, as though their desire to create a spectacle is inversely propotional to the surrounding natural beauty. If the the Alps near Lausanne are meant to the be star, then the Rolex Learning Center is happy to be a foothill, or better yet, the landscape's slow incline, the lakeside plane reaching up, slowly and humbly, to the majestic mountains beyond.
I've not been back since the structure has been completed so my sense of things is still very much colored by the possibility of what it would become, though the pictures I've seen of the completed building certainly live up to what was proposed. I'll have to get to the New Museum on my next trip to New York, which I'm sure will come before I get back to Swiss soil.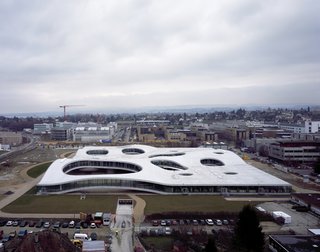 Check out this slideshow for a quick overview of SANAA's work.