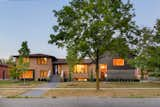 From sanam
Set within a 1970s suburban neighbourhood in Etobicoke, this renovation and addition aimed to revalue the original sidesplit house typology while maintaining an appropriate presence in line with the neighbourhood's character. This approach differs from the current development in the area, as several original homes are being replaced with timid versions of their predecessors.
WOODBANK stemed from a family's need for a three-car garage. Through a collaborative meeting with the client, the opportunity presented itself to extend this requirement and create space for a growing family, including extended living areas, additional sleeping areas and a renovated lower level unit. Adding a second unit also helped to offset expenses, densify the neighbourhood without undermining the qualities of a suburban place as well as creating a more lively street frontage.
A unit with a street facing frontage also is more in demand than a conventional basement unit for potential tenants, and is a more permanent housing solution.
Subtle reconsiderations proliferate throughout the newly configured spaces. The addition and original home is mediated by a superimposed circulation for all occupants while retaining privacy between the lower level unit and the main home. The primary entry to the lower level unit was relocated from the rear yard to the front facade, creating neighbourly interaction between the occupants of the house. The removal of the flat ceiling allowed for the original attic space to form part of the home's central living areas. It resulted in a visual connection between levels. And finally, the existing single-car garage was repurposed as interior space and a new three-car garage was added, facing the busier vehicular street. A generous bay window is inserted into the original garage door's opening.
Achieving a complementary yet contemporary aesthetics, the existing materials were selected to impose a contrast through colour, in the case of the brick, while maintaining the similar texture. The new insertions and additions were clad in darker colours, yet taking cues from the 1970's brown bricks found throughout the neighbourhood. In addition to the bricks, metal siding and asphalt shingles were used to reference the other houses in the neighbourhood. Standard structural, mechanical and electrical systems were employed.