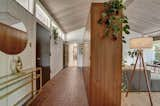 Wood Avenue Mid Century Stunner
From Elspeth Acosta
Stunning mid century modern rancher located on coveted Wood Avenue in Colorado Springs, Colorado. The property was built in 1961 by a family that occupied it until it sold in 2021. It was truly a 1960s mid-mod time capsule, complete with a legitimate bomb shelter in the basement. We fell in love with all of the original details that are so unique to the mid-mod design movement. Floor to ceiling windows, exposed vaulted ceilings, built-in's around every corner…the list goes on and on. When we toured the property last summer, I remember saying to my husband: "I can't say no to this property." So we put in an offer and the rest is history.
It was very important to me that we preserved the original details and mid-century charm. Every design decision, every detail was meticulously considered. All original walnut built-ins were preserved and restored, including a built in turn-table and tape deck with operable speakers. A most iconic office boasts a beautiful built-in desk and shelving. Original Pella windows with integrated screens remain and are fully functional. Original brick wood burning fireplace takes center stage in the living space. Around every corner, there is iconic mid century charm!
Regarding the remodel: Carpet reminiscent of turquoise poodle hair and peeling rolled linoleum was replaced with light hardwoods that flow throughout the home. Drab walls were brightened with Benjamin Moore's Alabaster. The original compartmentalized kitchen was opened up to the rest of the house and remodeled for the modern day family. Dingy bathrooms were completely revamped and freshened, including modern-day large format terrazzo floors.
The blood, sweat and tears have been real over the last year - but so has the love that we've poured into this place. I feel we've really celebrated the originality, yet brought the property into modern day life. It has been an honor to give this property the love and light it deserves.