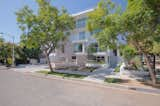 West Hollywood Treasure Offers a Tranquil and Sustainable Retreat
From Luxury Homes & Lifestyle
1345 Havenhurst offers the very best of both worlds, situated in a private neighborhood setting steps away from the most iconic stretch of the Sunset Strip. Residents will enjoy the vibrant city's social pulse and be able to find rest and relaxation in their tranquil abode.
Certified as a Green Building by the city, 1345 Havenhurst features resource-efficient design by incorporating greenery, the finest materials and thoughtfully chosen finishings.
The Garden Terrace #8, located in the back corner of the building, offers total privacy and is surrounded by lush landscaping. Boasting two bedrooms and three bathrooms, the sophisticated layout makes for easy living across 1,884 square feet. The two-story residence features a carefully configured, open-plan living space.
A blend of modern materials on the exterior sets the tone for the building's sophisticated, contemporary style. The white facade is juxtaposed with aluminum accents, expanses of glass and natural wood cladding, a dynamic look as unique as the homes within.
1345 Havenhurst is located adjacent to a private park maintained by the City of West Hollywood, and is located on the extremely desirable, tree-lined Havenhurst Drive.
1345 Havenhurst #8 is offered for sale for $1,569,000 and is represented by The Agency's Nick Hertz (310) 728 0345 and Paul Lester (310) 488 5962.