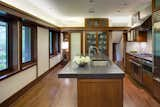 Walter Burley Griffin Carter House Renovation
From TBDA
We designed two projects on the site of Walter Burley Griffin's 1909 Carter house: a coach house above the 1930's garage, and an interior remodel of kitchen and master bath.
For the coach house, we introduced new dormers to create interior space in the previously unused attic; also a new site wall, symmetrical to the main house, which established a dialogue between the two buildings. The project won an Evanston Preservation and Design Award.
The kitchen was an opportunity to remove the incongruous 1980's kitchen and re-establish the architectural language of the house while expanding the usable size of the kitchen. Quarter sawn oak, concrete countertops, and light coves provide architectural connection to the original house. The bath was an opportunity to provide a clean, modern space, using Lyptus cabinetry, black Canadian marble, and stone wall mosaic.