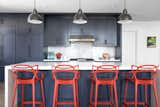 From undefined
This condo was designed for repeat clients who moved to NYC and hired our Oakland studio to help renovate their East Coast home. We gave the condo a family-friendly look that's elegant and modern, and changed the floor plan to make the home's great views visible from more of the space.
The living room has a neat, white palette and built-in display shelves contrasted with matte red chairs, a grey sofa accessorized with printed pillows, and an abstract area rug. We also added seating near the windows so our clients could enjoy city views in comfort and luxury. The living room extends into a cozy dining area with sleek, dark chairs, a wooden table, and a two-tone metal chandelier.
The kitchen is a compact space with adequate floor-to-ceiling storage, a grey island with bright orange chairs, a shimmery backsplash, and metal pendants. Luxury and comfort dominate the bedroom, and one of the bathrooms has a special touch of the West Coast with wallpaper that depicts people from the Bay Area as a nod to our client's roots.
Find more of our work on www.joystreetdesign.com