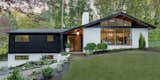 From Ron Villacarillo
This mid century split-level is located in the Bon Air neighborhood of Richmond, Virginia, which is full of homes built in this era. But unlike other homes it was designed by local architect, Alan McCullough, one of the very few modernist architects practicing in this area at the time. The home was built in 1957 and was designed and customized to take advantage of its sloping, wooded lot, with main living areas at the high point of the property. Big windows and doors open up the living, dining and kitchen areas to beautiful views of the surrounding woods and landscape.
During a year and a half renovation, walls were demolished, structural beams were added, new power and plumbing in the floor - which made way for a big, beautiful new open concept entertaining space that is the center of activity of the home. This landmark from the 50's was introduced to modern utilities, appliances and finishes. The exterior ground was excavated to make a terraced landscape with Corten steel retaining walls which hold some of the most tropical plants that can survive in the region. Influenced by travels to Mexico, Hawaii and Palm Springs, the owners brought vibrant elements from each destination into their colorful home.