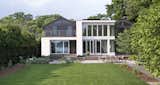 From Sellars Lathrop Architects
This 1950's Contemporary was resurrected into an upscale, energy efficient, modern river-front retreat for a well-traveled Australian couple. The front maintains it's Contemporary roots while the back, facing the river, exposes a more modern expanse of glass walls. Large openings of both folding and lift and slide doors create a complete indoor- outdoor lifestyle. The interior spaces are stripped down to the bare essentials of glass, white walls and natural wood.
Simple, yet unique, custom details portray the owners interest in different materials, color and artistic form. A free flowing custom fiberglass kitchen counter anchors itself to the ceiling while creating a portal between dining and kitchen areas. An artist's original painting is superimposed onto a multi sliding screen wall- providing both privacy and large scale art seen from second floor office to loft space below.
Triple glazed windows and doors, electric air source heat pumps, super insulation and solar panels on the roof were essential elements of the design for meeting Energy Star Certification. The many rooms of different heights and volumes flow into each other and keep the attention focused on what matters: The bold and ever changing green and blue landscape of the trees, sky and water.