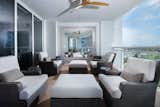 Credits
Interior Design
Allen and James Interier Design
From Laurie Rudd
Located on Kalea Bay, this new construction condominium encompasses a full 3,500 square feet of luxurious living rising high above the Naples waterfront. The design duo of Allen and James worked their magic to create an indoor-outdoor design plan that was focused on materials and textures to bring interest to each area of the home away from home.
Inspired by a relaxed and neutral expression of indoor-outdoor living, the homeowners of this Naples condo, residents also of the Bloomfield Hills area of Michigan, welcome the sun and sophistication that this residence offers. Modern furnishings and touches of mid-century were added to complement the inviting décor. The use of texture, layered elements and abstract art are the perfect complement to the overall retreat theme of this home.
With an open floor plan, the kitchen and dining areas were designed with each piece meticulously selected to fit the homeowner's love of cooking and entertaining for gatherings of all sizes.
Enjoyment of the southern climate and lifestyle were a focus for the designers when creating the outdoor living space. With plenty of room for dining, relaxation and conversation, the area is dressed in a durable furnishings and accessories. The mirrored wall allows for special enhancement as well as glowing reflections of the abundant Florida sun.