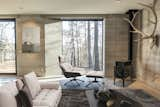 The CALX Cabin, a Rammed Earth abode in the Ozark Mountains
From Brandon Gore
The CALX Cabin is a rammed earth, concrete, wood, and steel cabin designed and built by Brandon Gore in Eureka Springs, AR. It is one of three modern rammed earth structures built on this property.
The cabin is more than rammed earth, wood, and steel, it's a respite from the grind of the world, a rebuke to the planned obsolescence of the modern builder. The realty sits in the heart of the Ozark Mountains, perfectly situated just seven minutes from downtown Eureka Springs and five minutes from Beaver Lake. World-class mountain bike trails are less than a minute away, and the legendary Thorncrown Chapel is just a minute farther down the road.
The warmth and texture of the rammed earth strata layers are juxtaposed by the crisp, clean lines of the architecture. The studio and RV garage have suggestions of Japanese details intermingled with native Ozark vernacular. The CALX Cabin is decidedly modern without being cold or sterile. It's wabi-sabi modern - pared down to its barest essence, wabi-sabi is the Japanese art of finding beauty in imperfection and profundity in nature.
"The Japanese view of life embraced a simple aesthetic that grew stronger as inessentials were eliminated and trimmed away." — Tadao Ando, architect