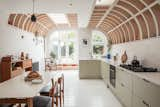 From Craig Rosenblatt
This family home in Walthamstow, London has been overhauled using new technologies and innovative design methods to create a bright and spacious extension. The owners of this property were operating on a tight budget and needed more space but the site was extremely constrained. By creating two distinct volumes, it was possible to build up and out to the rear and therefore provide a generous a flexible space for communal gatherings. This had to be done with careful consideration of the proximity to neighbours on both sides.
Inspired by the history of grand architectural spaces and ship-building techniques, a vaulted roof was developed so that head heights could be increased beyond the standard sloped side extension and still fall within the planning constraints of eaves and roof heights set by the local authority. The roof is expressed internally as a dramatic ceiling formed of CNC birch ply ribs, with skylights cut into the structure to bring daylight deep within the plan and help animate the space throughout the day as the sun moves around house. A bi-folding window are built into the end of the extension with a seat incorporated as a spot to stop and enjoy views out to the garden beyond.