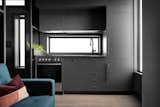 From Barry MacKenzie
"Do you think we could do anything with this space?" Joshi and Monette asked. These homeowners had purchased a modest home with a garage that had previously been used as an art studio.
It was 237 sqft of a catch-all space that would soon become a secondary living space geared as a rental.
Hedgeford & Berkley is a design and build firm, specializing in one of a kind projects. We work with visionaries - people who expect more from their homes. This project was a perfect fit.
The design brief was to convert this single garage into a self-sustaining bachelor pad. It was to feature a three piece bathroom with laundry, a bedroom, living room and modest kitchen.
The space had great bones to start but it was a few inches shy in usable height of being able to have a bedroom in the loft. Once we decided everything needed to stay on one floor, every inch definitely counted.
First thing we thought of was the experience of someone staying at the space since it would be used as a rental. We wanted to ensure privacy for both the homeowner and the guest. The windows were meant to face a garden vs the driveway and smart glass was installed to allow complete privacy at the touch of a button.
We wanted guests to feel that they had everything they needed. The kitchen features a full line of appliances, integrated for sleekness and function. The washer and dryer is tucked away in the bathroom, and of course the storage bed offers more room beneath.

The design brief was to create an urban feel that had some fun. The concrete fireplace wall and tiled brick wall lay the foundation for that. We added a custom metal, green wall that features real plants meant to thrive in low maintenance conditions. The bathroom mural was custom made in Turkey and extends right into the shower area. We protected it with a matte finish and dual fans to extract steam from that area. Glass covers the portions extended into the shower.
We didn't forget about luxury either. Heated tiled floors and insulated subfloors make sure that these guests can cozy up inside while we bear the Canadian winter. The layers of bedding are organic bamboo and naturally hypoallergenic. Having technology at your fingertips was key. The heating system, privacy tint windows, fireplace, and lighting are all controlled through bluetooth. The Samsung Frame tv allows you to have a piece of art when the TV is off.
The vanity was custom coloured to add more unexpected colour in small doses and installing the oversized mirror allowed us to peekaboo the fun back into the living room.
We kept the kitchen cabinetry stoic and lined the drawers with red velvet for an added surprise. Clean, simple doors allowed us to modestly mix in an iguana pattern and leathered finish on the counters.
Difficulties with this project? Trying to have 11 trades working around each other, with their tools and supplies. It was a constant game of tetris that was further complicated by being a winter build. Not having an outdoor space to work in meant we had to be creative with tent set ups and heating. Capturing any nice day where temperatures were viable for exterior work meant careful planning and disciplined timelines. It wasn't easy, but it sure was fun. And that's why we keep doing it.
The part that always made me laugh was that we were gearing up to do the project we're doing now - 17,000 sqft where room would not be the challenge.

Design: Hedgeford & Berkley
www.hedgefordandberkley.com
@hedgefordandberkley
Photography: Barry MacKenzie
www.barrymackphoto.com
@swizzler