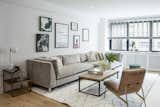 Sutton Place South Apartment
From Havwoods International
This bright, white apartment renovation is designed by Brooklyn-based firm, JSE Interior Design. Situated along the East River in New York City, this one bedroom apartment is an oasis for the Upper East Side homeowner, with carefully curated details and breathtaking views. Her love of feng shui-inspired design set the stage for this complete apartment renovation. Natural finished, wide plank oak engineered wood flooring provide direction throughout the contemporary open floor plan. The furnishings and finishes create a clean and luxurious atmosphere, which speaks to the desires of the client and the beauty of the location.

This Sutton Place South Apartment design was a semi-gut renovation removing all materials and finishes throughout, breaking down walls and rebuilding and refinishing to the client's specifications and aesthetic. Havwoods Provence Pureplank is used entirely throughout (with exception to the Master Bathroom and Powder Room).

An obstacle that Havwoods was able to help overcome was the strict alteration requirements that called for use of certain flooring products, waterproofing, and underlayment for soundproofing. JSE Interior Design chose Havwoods already knowing the flooring would sufficiently meet these requirements.

Havwoods offers a quality finished product at an unbeatable price. The Provence Pureplank offered the rustic yet polished and clean look the client wanted with exposed wood knots and light honey coloration.
To learn more about Havwoods International, please visit www.havwoodsusa.com