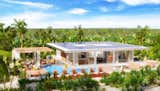 Sustainable Living Steps From The Beach at Karaya Blue in Turks & Caicos
From Luxury Homes & Lifestyle
Turks & Caicos is a tremendously beautiful destination with white sandy beaches meeting turquoise blue waters that stretch for as far as the eye can see. Being mindful of the unique ecosystem of the popular island and to protect its beauty for generations to come, savvy developers are casting their eye to the future and bringing to market exquisite homes that are designed with sustainability in mind.

One such project that is raising the bar for sustainable living in the Caribbean is the remarkable Karaya Blue - a boutique collection of six luxurious, eco-conscious villas just steps from world-famous Long Bay Beach. So committed to paving the way for eco-friendly living, developer Latitude 22 has envisioned the homes to feature many new high-tech elements that create a sustainable living space and are also including an electric charging vehicle as a part of the home purchase.

Each Karaya Blue villa will include an advanced water catchment and recycling system, as well as a fully-integrated solar electrical system custom-designed by RENU energy TCI, featuring solar panels for power generation, and a Tesla Powerwall energy storage package, including a home vehicle charger. And residents will be able to thoughtfully zip around the island in their Polaris GEM e4 or they can choose to upgrade to a Tesla Model 3.

In addition to new technology that will allow for a sustainable way of life at Karaya Blue, careful design will allow the villas to remain cool and welcoming both day and night – with abundant shade provided by the broad cantilevered roof, ceiling and wall insulation, carefully-located clearstory ventilating windows, and low-E filtering treatment on all the glass. And to further conserve electricity, all villa lighting is LED, water heaters are point-of-use or on-demand, and only Energy Star* appliances, ceiling fans, and air conditioning units are used.

Each villa is situated on its own lush half-acre site, nestled amidst 50 acres of reserved natural open space, and residents can choose from two distinct and customizable floor plan styles, Sea Glass and Pavilion. Each design includes three bedrooms, three baths, seamless indoor-outdoor living and a private pool terrace, while the great room boasts an open chef's kitchen, dining and living areas ideal for gathering and entertaining. Expansive windows and glass walls frame the lush and leafy views, while interiors showcase the finest design details, finishes and fixtures. The villas also come with optional custom furniture packages by New York City-based interior design firm Orior Furniture and turnkey property management and villa rental services by leading TCI provider, TKCA Vacation Rentals.

Karaya Blue is represented by The Agency's Sean O'Neill.

Sean O'Neill - (649) 232 1316.