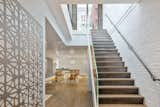 From Rossington Architecture
A renovation of an 1860's San Francisco warehouse. The original 3,100 square-foot unit was oddly laid-out, with the entrance sequence taking one through the kitchen, amongst other oddities. The apartment was stripped to the studs and the layout massaged for better flow and a more modern sensibility. Studio Becker cabinetry in all rooms reflects the detailed craftsmanship throughout the home. The roof was rebuilt and its old-growth lumber was repurposed as interior doors. The rooftop garden was expanded to cover the entire footprint of the apartment and includes a koi pond, hot tub and two firepits.
Construction by Van Acker Construction. Structural Engineer: Yu Structural Engineers. Mechanical Engineer: 350 Engineering. Acoustical Consultant: Acoustics Arts and Engineering. Koi Pond Consultant: Clifford Murata. Waterproofing Engineer: McGinnis Chen Associates, Inc.  Historical Window Consultant: Simpson, Gumphertz & Heger, Inc. Interior Lighting: Techlinea. Exterior Lighting: Claudio Ramos. Photography: Blake Thompson © 2019 Open Homes Photography Inc. Design Team: Phil Rossington, Mariam Nassajian, Mason St. Peter.