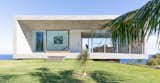 From Modern on Maui - Liam Ball
Welcome to this north shore oceanfront house - inspired by Marcio Kogan's commanding Paraty house but painted with a restrained architectural brush more befitting to the muddy feet culture of Peahi Maui. Who created this masterpiece you ask? Some decorated Pritzker prize winning starchitect? Actually, it's a collaboration between its owner, a Canadian entrepreneur and Maui's own Peter Neiss of Maui Architectural Group.
The Project is comprised of two right sized rectangular shade boxes stacked, cantilevered, and offset such that each enjoys the spectacle of the crashing ocean below. I call them shade boxes, because the effect is that the transparency of the facades allows light and air to cruise through each box, as though the function of each box were simply to shade the occupants and direct their eyeballs toward the view.
If that weren't clever enough - there's much more function hidden in each rectangle. The first acts as an energy harvester - lassoing photons from the sun and sending them to Lithium Ion batteries courtesy of well hidden photovoltaic panels on the roof. The second rectangle demurely hides itself from the first via a living roof of tropical grasses and lava rock. It's there but it's not.
The ceramic tile cladding creates a climate worthy solution to the constant battering of an ocean front location. Giant Koa "Shoji" doors allow the first space to hide and reveal various aspects of its program depending on the whims of the lucky inhabitants.