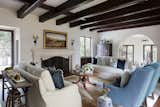 From Angelica Angeli
La Cañada's, Courtney Thomas Design, creates calm, serene homes that inspire a balanced life. Courtney uses interior design to paint her clients' life experiences and memories into their homes. Her designs are family-friendly and functional, with elegant furniture and calming palettes. The designer has a passion for architecture and people, and interior design allows her to enjoy both. The Spanish-style home featured here is an architectural landmark that Courtney and her team renovated for modern living. This project showcases her ability to blend the old with the new beautifully.
A priority while designing this home was to make it both family and entertainment-friendly as the homeowners love to entertain. The living room is an elegant space with exposed wooden beams complemented with furniture and accessories in neutral, earthy tones. Textured rugs, antique wood pieces, and custom upholstery create a calming ambiance. In the old setup, an unused piano occupied a corner of the living room, so Courtney repurposed that area and added a custom bar, which was a perfect touch for people who like to entertain.
The designer also turned an old bedroom into a family room, and it offers an ideal spot for the family to bond and hang out. This room is all about uniting comfort and functionality, with touches like the waterfall table over the custom ottoman. It serves the dual function of being a table to serve refreshments and can be pulled close to the sofa and turned into a workstation. Another great area for entertainment is the sunroom — bathed in natural light and soothing hues.
The home office is an oasis of quiet and comfort — it features built-in cabinetry in a soft color and a cozy workstation that allows one to work without interruption. The designer chose a Spanish theme for this home's interior design, and it's expressed in the accessories and art used across the house and in the tile work in the bathroom and powder room. This layered, curated home is both historic and modern, with equal doses of style and practicality.
Explore more designs by Courtney Thomas Design on www.courtneythomasdesign.com