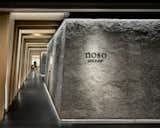 Credits
Interior Design
Faci Leboreiro Arquitectura
From Faci Leboreiro Arquitectura
Located in a key point of Masaryk in Mexico City NOSO is a project that challenges creativity and design capacity, a signature restaurant was projected in a small space
When the elevator doors open, we receive a large granite monolith, inspired by a Galician horreo where only the name of the restaurant is discreetly illuminated. The rough texture of the miracema stone is softened by the artisan scratching that was randomly performed on it.As a first contact, when the elevator doors open, a large granite monolith that was inspired by a Galician hórreo (typical granary built in wood or stone, raised from the ground by pillars) receives us, where the restaurant's name—Noso—is discreetly illuminated and the rough texture of the Miracema stone is softened by the artisan scratching that was randomly performed on it.
The monolith, gives place to the showcase that lodges the menu of the day, through a fracture originated by a steel plate.
As the project continues, an impressive 8-meter-long corridor, composed of slender wooden beams that descend over the wall, creates a dramatic perspective, as well as a rhythm that continues towards the hall. Through a game of reflections in the mirror and a dim lighting, the commensal is guided from the gloom of the access to the light of the hall.
The reception, surprising with the dynamic way to the hall, where the kitchen's pass table functions as a visual auction and the commensal is received by the interesting assembly of the dishes, becoming it a show for the short wait for the table.
Passing through the reception, you will find the volume of the bar, a smaller hórreo, interrupted by the wooden shelves that house the bottles that serve the bar. The inclination in the stone walls, together with the light that emanates from them, creates the sensation that the heavy monoliths float.
Once in the living room, a latticework—conformed by 174 steel plate pieces and inspired by the white wings of the seagulls that can be seen in the Rias Baixas—takes over the room, creating filters and dynamic lighting as if it had its own light, giving a sense of privacy to it.