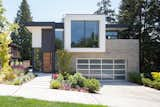 From Hatano Studio, LLC
I have been an interior designer (in NYC and Seattle) for over 10 years. (Hatano Studio, LLC. www.hatanostudio.com) Building a house was the one and only item on my "bucket list". The long process started by looking for a site where my husband and I could build our home. After nearly 2 years of searching (and several rejected offers) we purchased a site we could subdivide. I designed both the interior and exterior of this home

We named this house and project "Nikoichi". This means 'combining two things together into one' in my native language, Japanese. It may be best friends who are inseparable. Often my husband and I are called "Nikoichi" - as we are best friends and enhance each other's lives by being together.
I often set "parti (concept)" when I am designing. I decided to use "Perspective" for this house. Growing up in Japan, I always liked to visit old temples. I was attracted by how your view changes based on where you stood. Window door casings and staggered architectural elements create a 'frame' for outdoor space or gardens-like art with simple linear lines. In one of Zen garden, you can never see all rocks at once from a single position. It is like life. I wanted to incorporate this concept into our home's architecture.
In the end, we wanted the house to reflect and be completely customized for our lifestyle. We do not need many things – just our few favorite things. We wanted a music room for my husband to play piano, compose and for us to occasionally play flute and piano duets. The master bath tub is connected to the shower area because I am used to a Japanese style bath. When we wake up every morning, we feel happy in our home and savor every moment.