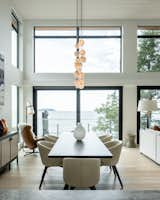 Luxury Loft Retreat - Halfmoon Bay BC
From Landon Dix

When the homeowner first purchased this waterfront property on the Sunshine Coast, she had humble thoughts of what a simple renovation would hold to make it into her own personal retreat. After stripping the existing home down to the studs, she realized what potential it had if we took the renovation to the next level, quite literally.
The existing Master Bedroom utilized the entirety of the upstairs, with a small private deck to embrace the views over the rooftop of the living area.
What then was realized was the potential of letting in the glorious views at virtually every step throughout the home, but it required rebuilding the entire ocean facing side of the home, converting that master bedroom into a loft. 18-foot high ceilings over the living and dining areas, clad in a white wash tongue and grove, with floor to ceiling glazing capturing the views of Halfmoon Bay, and the beacon Merry Island. Loft living worked for this homeowner, as this was a retreat for her to enjoy for herself, while a self-contained suite was also developed on site for visits from family and friends.
The result, a breathtaking scenery that floods the home for this single Entrepreneur, that truly gave her the luxury retreat she wanted as get away from from the bustling city life.
The home is situated on a bluff centred in the heart of Halfmoon Bay, with full exposure to the South. It truly offers staggering 180 degree views, and incredible storm watching in the shoulder season of this mainly vacation-home based region of the Sunshine Coast.
When the homeowner reached out to Landon Dix, it felt like an incredibly natural fit. Halfmoon Bay holds a lot of history for the designer, who has been coming to the Sunshine Coast his entire life. His Grandmother has roots to the history of the Bay, visiting by Union Steamship in the 20s before the area had roads and infrastructure. The homeowner wanted someone who had a deep appreciation for the area, and could bring that passion to the build of her home where she chose to spend her time away from her business life, and focus on life's simple pleasures.
Designer, Landon Dix was residing in Vancouver and spent half of his time in Halfmoon Bay at the conception of this project, and for many years split his work between the city and the Coast, which was convenient for the homeowner. The flexibility to meet in the city at any week, and have a designer that can also be hands on with the build with frequent oversight. Through the course of construction, Landon took on a management direction in the build part-way through when the contractor stepped aside, shortly after choosing this his breathtaking jobsite for the site of his wedding. Landon Dix is now fully based on the Sunshine Coast, and frequently prefers the hands-on build and management approach to his own designs.