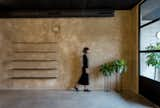 From Nada
Nada transforms an old warehouse into a Chinese restaurant with a Mediterranean essence.
Blue ceramic and wood contrast with the roughness of the cement.
Starting from the program of a family of Chinese origin with several generations dedicated to the restaurant business, Nada has created a quiet restaurant, with few elements where materials dialogue in an harmonious contrast.
The restaurant is projected as an open space with a large central bar, a cold kitchen visible from the dining room and a transition space between the street and the interior.
The materials are simple: cement, ceramic and wood. The open-plan space is maintained as a box with cement walls and floor. It maintains the past industrial look of the property. In the center of the open space a large cobalt blue ceramic bar emerges from the pavement. At the back of the room there is a cold kitchen covered entirely with the same ceramic tile. The effect perceived is similar to the sensation of being in a cave in the depths of the sea.
The walls have been finished in the original color of the cement and a block made from the same material that creates a truss. It reveals what is happening behind it sometimes. This is also a gesture to the typical Mediterranean architecture present in Valencia.