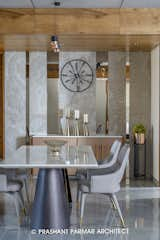 High-End 4 BHK Apartment Interiors At Enstin, Ahmedabad
From Prashant Parmar Architect - Shayona Consultant
Pleasing Interiors is all about the right proportions of material and textures along with balancing client's requirements & an effective program. This is a 4-member family apartment having a total carpet area of 2200 sq. ft. The initial brief of the client was that it should be stylish, subtle & under-stated luxury but at the same time it should have its separate functional value.
Our motive was to make the entire interiors, the overall look of the space enhance the overall lifestyle of the occupants. Talking about the material palette, we haven't really played around with colors, it's basically shades of greys & browns and more of the textures, because we feel that the original texture of the material has its own language.
The flow of the apartment is in such a way that, once one enters will see a 30' long open plan, where we have family seating along with dining / a puja space and a kitchen. Here, the ceiling is kept raw & elegant with its natural concrete texture combined with wooden fluted panels. Coffee brown Italian leather sofa with marble center tables add luxury and comfort to the space. East facing Balcony is developed with artificial lawn with garden sitting & swing, creating a cozy sit-out to chill and relax.
The modular kitchen is made with matte acrolam cabinets with soothing combination of corian kitchen top and fluted Tile as dado. The elegant white onyx Italian marble dining top is paired up with grey leather revolving chairs.
The existing floors are grey tiles, but in all bedrooms & drawing room we've changed it with light-toned wooden vinyl floor to give different identity. The passage leading to the bedrooms is highlighted with a decorative wall and a console by the use of stone veneer panels mixed with a strategically placed mirror which gives the feeling of hugeness to the space.
The Ceiling of Drawing Room is beautified with teakwood grid ceiling with grey knotted cladding pattern of modified clay. The light-stone cladded wall sets as a background to the seating furniture. The motorized wooden blinds are strategically placed on east side to get a beautiful play of light & shadow. TV wall stands out with marble printed tiles paired up with wooden fluted panel.
Cream-colored wpc fluted panels contrasted with veneer & PU finishes give a stylish look to the master bedroom. Bold blue bed is customized with hydraulic storage with fine detail. The stylish chairs with coffee table creates a cozy corner within the room. Whereas the veneer paneling with teakwood patti is interestingly carried forward from ceiling to wall in the Son's Bedroom. Where wardrobes are kept silent with seamless PU finish shutters, with a camouflaged Toilet door. Daughter's bedroom is highlighted with teakwood fluted panel and light PU finish. Here, The Toilet door is finely camouflaged with fluted panel besides the bed. Guest bedroom is the smallest of all rooms. To make it look spacious, it is designed neutral and simple with same colour palette.
Combining Aesthetic, Technical & functional aspects, this apartment becomes a perfect home that represents every space individually but gives a perfect ambience as a whole. Each little addition and accessory in every room and corner of the house is selected to add to the house's overall aesthetic, grace and grandeur, though keeping it simple and subtle…and yet, significant!