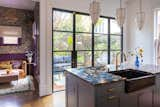 From SF Design Build
This three story, single family Victorian home is full of architectural details and charm. The homeowners hired us to remodel the two lower levels of the home. The idea was to be sensitive to what was original to the home, while removing some details from a previous remodel to unify the space.
We moved a staircase from the kitchen to the entry area - carefully tucking it under the existing stairs to the top floor - which allowed for a more spacious and functional kitchen. A full height storage wall conceals the fridge, freezer and pantry, and a large island provides ample work space. The new nine foot high steel door brings in more natural light and a view of the lush garden. We also squeezed in a powder room and a cozy den.
The adjacent dining and entry areas were remodeled as well, carefully preserving existing architectural details such as the fireplace and sliding doors, while refreshing the surround tile, lighting, wall finishes, stained glass, and built-ins. Noz Design was thoughtful to select a variety of sophisticated yet playful fixtures and finishes and furniture throughout. This project was a fun collaboration between all parties involved and we are thrilled with the results!